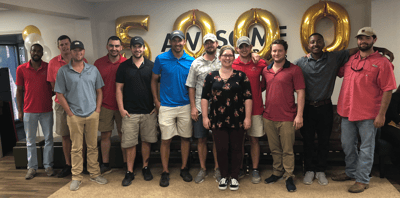 At Memphis Invest, each and every one of our teams, from customer service representatives and property management to sales and renovations, work together to create a stand-out "WOW" experience for everyone we come in contact with. We know that we couldn't do it without our investors, vendors, residents, and these dedicated teams.
One of the teams that provides long-term value for our real estate investors in the very beginning is our renovations team.
We sat down with Mark Anderson, executive and head of renovations for Memphis Invest in Tennessee, as well as Dave Smith, head of renovations for Memphis Invest in Texas, to have them weigh in on their experience and the Memphis Invest renovation model.
In this exclusive look behind the curtain at the renovations process at Memphis Invest, you'll see not only how we work together at every level to deliver a stellar experience for our investors, but for our vendors and residents.
In part one, Mark and Dave dive deep into the reality of their day-to-day challenges and triumphs, as well as crafting the Memphis Invest "WOW" experience for vendors.
A Day with the Memphis Invest Renovations Team
What does your typical day look like?
Mark: We start at 7:00 AM in the office on the computer organizing our projects, scheduling our vendors and planning our route for the day. At 9:30 AM, it's time to hit the road and get in the houses. A project manager typically visits about 10 houses a day to inspect what we expect, meet with contractors and check progress. They log everything they do in Salesforce, which is the technology platform we use to manage all of our renovations at Memphis Invest. The project managers usually finish their routes around 5 or 6 and we repeat the process the next day.
Dave: A day in my life is a lot less exciting than it used to be when I was a project manager. I have the privilege of leading and managing a group of individuals that work very hard at being awesome. I put out a lot fewer fires these days thanks to them. I spend about half of my day at the office training, reviewing reports, attending meetings, answering questions and figuring out ways to improve the renovation process. The other half of my day is spent out in the houses inspecting what we expect.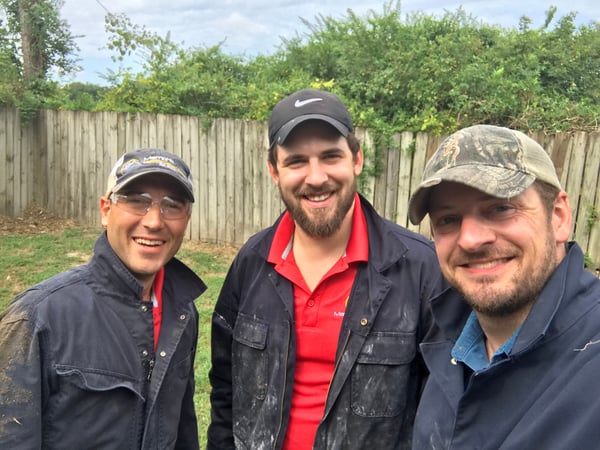 How does the renovations team collaborate with other Memphis Invest teams to ensure winning investment properties?
Mark: We call this the "Ripple Effect." Everything at the company is interconnected so everything we do has an impact on someone else. We work with the acquisitions department to assess the properties we are considering for purchase. The sales department is in constant communication with us regarding the active renovations that we will be releasing to them so they can match the houses to their investors.
Once that is done, we work with the closing department on appraisals, home inspections, etc. The accounting department sends out millions of dollars a year after processing the vendor invoices. And of course, we work side by side with the rental agents to get the house occupied quickly by a rent-paying resident.
Dave: The renovation team collaborates with just about every department in the company. We assess properties before the buying team purchases them. We collaborate with the sales team with finish dates, pictures and other things they need to make the property available to purchase. We collaborate with property management on many, many things. We are the boots on the ground for them. We take marketing pictures, put up directionals and rental signs, deliver letters, check occupancy, view maintenance issues, the list goes on and on.
We collaborate closely on when renovations will be finished and ready to close leases as well. Often times they are able to rent properties before we are even finished with the job so we work closely together to ensure a smooth transition for the new resident.
There is a lot of collaboration going on behind the scenes within many different departments. Company-wide communication is a major focus here because it is essential for success.
How does the Memphis Invest renovations team distinguish themselves from other turnkey companies?
Mark: Attention to detail. We are obsessive about curb appeal. We are fanatical about cleaning. We feel anyone can renovate a house but our goal is to make it "functionally perfect", which means everything works when a resident moves in. It's all in the details and we have processes in place to help us achieve that as well as multiple ways of receiving feedback and tracking results in order to keep raising the bar.
Dave: We distinguish ourselves from other renovators because we are able to manage 248 renovations in multiple cities at the same time, effectively. We sit down with the owners of Memphis Invest and the executive team to review our goals, KPIs and people, every single month and have been doing so for the past 10 years.
The report consists of yearly percentages and averages for the last 8 years and every month of the current year. We compare and analyze the numbers month over month and year over year. We set new goals and Kent holds us accountable to them.
We track just about every cost and percentage possible and track the time it takes between every milestone. We love analytics. When you have the ability to break complex processes down into small bits it makes it easier to pinpoint areas that can be improved. Kent asks for our projections and he writes them down. A month later we sit down and compare.
We also hold a monthly all-day renovation training. Every single person in every market participates. St. Louis, Oklahoma City, Houston, and Little Rock teams fly/drive to Memphis and DFW. We spend the morning in a classroom setting and the afternoon out in the field. As of last month, we added an additional all-day training for the new guys because we are expanding into new markets and hiring new project managers at a record pace.
Kent has taught us the only way you can build a business that thrives and lasts is by focusing on the people. It's all about the people. We call our people the Core 4: investors, residents, vendors, team. If we focus on providing a WOW experience for these four groups of people, the sky is the limit. Hire tough, treat people the way you want to be treated, and provide them with the tools and training necessary to complete the job.
How does the renovations team go above and beyond to give vendors the WOW experience?
Mark: Vendors want two things: consistent work and for their invoices to get paid. It's our goal to build long-term relationships with our vendors so we deliver on the two things they want the most. We also treat them the way we would like to be treated. Because of this, we have vendors that been with us for years and years. For many of our vendors, we are the only company they do work for. When you have mutual trust and respect, you can easily overcome the inevitable bumps in the road that come with renovating houses.
Dave: Proven Process – We've successfully renovated thousands of houses in multiple markets. As we have grown, many of our vendors have grown their business alongside ours. From our detailed lists to our invoicing process, we have this down to a science. Though we have high expectations of our vendors, the vendors will find we are very easy to work with if they uphold their end of the bargain.
Consistent Work – There is work to do 24/7/365. There are always more jobs coming. Vendors don't have to worry about downtime or keeping their guys busy. They don't have to spend money on marketing for more work. Vendors with good speed, quality and communication can get all the work they want.
We Pay Fast – We pay via direct deposit and vendors receive an email detailing the payment so they can do their bookkeeping easily. Vendors don't have to chase us down for money. We want to pay so the vendor can keep rolling on the next job. We require invoices to be emailed to us so it is quick and easy for the vendor as well as providing a paper trail if any issues arise. Vendors do not have to drive to the office to drop off invoices or collect payment. We pay every Friday.
Home Depot Rapid Pass – Through our relationship with Home Depot, vendors can get large discounts when they buy materials at Home Depot. This allows them to be more profitable by reducing their material costs.
Consistent Materials – We use the same materials on every house which makes purchasing very easy for vendors. Any unused materials on one job can be used on the next job so there is no wasted money. Vendors can benefit from bulk purchasing to lower their material costs because they know they will be able to use all the materials over time.
Asana Makes It Easy to Stay Organized – All of a vendor's open jobs are in one place. Using due dates help the vendor know which jobs are high priority. Communication with us is easy in Asana.
Project Manager Relationship – Our project managers treat vendors with respect. Firm but fair. We set clear expectations so there is no guesswork and it is our goal to build long-term relationships with our vendors.
Vendor Appreciation Lunch – Every year we get all of our vendors and their teams together and provide lunch, meet, and mingle. The owners of the company attend these and the vendors have the opportunity to meet them along with everyone else in the company, not just the rehab guys and gals. We usually pass out hats or t-shirts or something like that and we get our Home Depot Reps to attend as well. They usually raffle off gift cards and give out promotional things that are exclusive to this lunch.
Related Article: A Behind-the-Scenes Look at the Memphis Invest Customer Service Experience

Do you have any vendor feedback or experience that has stood out to you?
Mark: I could write a novel on this and most of the experience comes from learning the hard way. However, the overarching theme of most of these lessons is this: there is a difference between a job being done and a job being done right. You have to know the difference and you have to inspect it with your own eyes. In renovations, there is no substitute for inspecting what you expect.
Dave: Last year, after Hurricane Harvey hit Houston, many people lost everything and several of our vendors and residents were affected by the devastation. I don't know who put it all together or thought of the idea, but Memphis Invest rented 2 PODS. We all chipped in what we could and reached out to friends and family and 10 days later were able to send 2 full PODS down to Houston. The vendors and residents that were most affected by the storm were able to come by and get as much as they needed out of them.
Many people were touched by this act of kindness and the vendors and residents were beyond appreciative. This is one thing that I will always remember—Memphis Invest takes care of their own.
Part two is on the way! Keep an eye on your inbox.
Want to learn more about Memphis Invest, our clients, and what we're all about? Get the latest Culture Book.