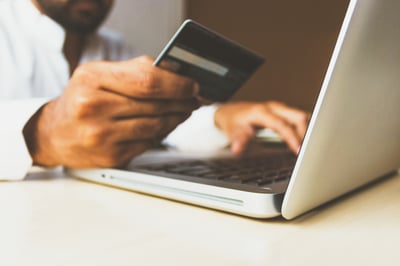 When we hear about credit, we often hear the negatives. We ourselves have warned against credit card debt on this very blog. However, credit in itself is not always a bad thing. Just like anything in the world, responsible, informed use of credit cards and be advantageous to your investment career.
The key here is strategy and information.
To utilize our credit wisely, we've got to arm ourselves with all of the tricks in the book.
How Savvy Investors Utilize Credit to Succeed
Build a credit score.
We all know how important a credit score is for securing financing. However, actually building and improving your credit score isn't always straightforward. Building a good credit score demands a few things: one, using your lines of credit.
If you aren't utilizing your credit actively, you risk being dropped for inactivity. In the same way, the only way to effectively build credit is to be reliable and consistent. This means paying off your balance each month or, at the least, being on-time and consistent with your payments.
As you do this, you will gradually earn more lines of credit as you hold your card. For the real estate investor, this is particularly valuable if you want to use credit strategically for investment acquisitions.
When you have a line of credit, you can spend up to that amount. As you pay the money back, those lines of credit open up again for your use, provided you manage your credit responsibly. Building your credit score not only puts you in favor with credit lenders but with other financial institutions. A great score means easier access to new investments via financing.
Be sure to check out: 4 Ways Real Estate Investors Can Improve Their Credit Score
Mind the fine print.
Credit kills finances when the people using it don't pay attention to the fine print. There are two sides to this. On one hand, you need to be fully aware of terms, interest rates, and fees in general. This will prevent you from getting in over your head as much as possible.
There are also great benefits to find if you are in-the-know. Cash advance options, zero percent interest promotions...these can greatly benefit investors if properly utilized. With these deals, an investor could take out a $20,000 downpayment on zero-interest credit. Then, if there are limitations on the zero-interest terms, refinance later using your financial institution.
With better terms there, you don't have to worry about the consequences of a maxed-out credit card. Note: this only works when these zero-interest promotions come along. Otherwise, you will end up owing much more than you spent to begin with. Remember: these types of fast and easy loans are designed to be short-term. So plan accordingly.
For investors, it's also important to know your options where credit is concerned. We're all familiar with credit cards, but that is not the only way to pursue credit lending. There are HELOCs (home equity lines of credit) for second mortgages, personal unsecured lines of credit, secured lines of credit, and marketable securities pledged credit.
Be aware of the options on the table so that you choose the right way to finance.
Pay it off ASAP.
A key with credit of any kind is paying off your balance. Again, these are short-term arrangements and investors have to be incredibly diligent and able to pay off their credit debts. We all know people who are mired in credit card debts and it is all-too-easy to fall into the same traps.
The temptation of instant cash can be alluring, particularly for investors who don't otherwise have access to funds. Self-control and diligence are non-negotiable for any type of financing — particularly where credit is concerned. If you are unsure of your ability to pay or refinance credit debt successfully, another method is probably the better option.
Have a plan.
Most financial and investment professionals warn against the over-utilization of credit. We're the same way — it's far better to choose a financial institution that you trust. When it comes to real estate investment and financing, we connect our investors to the best of the best. That said, credit can be useful.
What investors need is a plan. It's easy to focus all of our energy and attention on building a portfolio and planning acquisitions. However, we need to plan financially as well. Look into your options, weigh the risks, and choose the path that makes the most sense for what you want to accomplish.
The financially savvy use lines of credit to improve their investment strategy. They don't rely on it, nor do they neglect other, more stable options.
Investors are no strangers to debt — that's why it's valuable to take on only the right kind of debt. Credit can be useful and we can learn to make it work for us. However, we must be wary of high credit card balances and unmanaged debts.
Let Memphis Invest guide you in your real estate investment journey. We'll connect you with top-tier financial partners who will help you secure your investments...and your future.