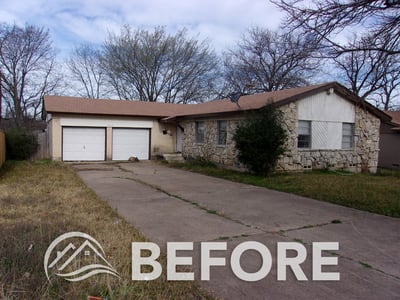 This week's Turnkey Transformation is located in Dallas-Ft.Worth, Texas! This house had a handful of beautiful features that had gotten lost over time from neglect. From the stone walls and mid-century geometric window pattern, to the delicate trimming along the roof, our team made sure this home came into clear focus for future residents. Check out the pictures below to see how we polished this relic and made it an asset for the present!
Maximizing a budget of $63,000, our team went to work returning this home to its original beauty. On the inside, renovating included getting rid of outdated pink tiles in the bathroom, installing new flooring throughout the entire home, and getting rid of a lot of trash buried inside the attic. On the outside, we ensured the exteriors truly shined by repainting the roof trimming and applying a new roof all-together. The finished product is yet another on our list of proud transformations.
The Dallas-Ft. Worth metroplex is a prime sweet spot for real estate investors. Did you know that Dallas ranks in the top 10 for capital venture investing? The area is a mecca for small business owners and the city also boats a low cost of living. These small businesses control the ebb and flow of the economy, and surprisingly make a bigger difference than the larger corporations you may associate with Dallas.

Related Article:

The Surge of Small Business in a Big Economy: Top Dallas Startups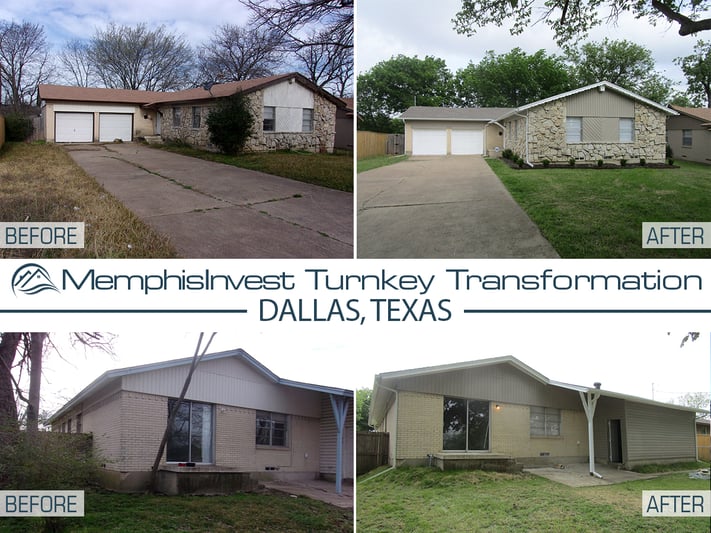 About this Transformation:
The owner of this Turnkey Transformation is located in Texas; this is their first property that they have invested in and had managed by us. Here is additional info about the home:

- Built in 1963
- 1,290 sq. ft.
- 3 bedrooms, 2 bathrooms
- Lot size of .18 acres
- Installed New AC Unit
- Installed New Furnace
- Installed New Water Heater
- Installed New Roof
- Installed New Dishwasher
- Installed New Countertops
- Installed New Hardware on Cabinets
- Installed New Vinyl Plank Flooring Throughout
- Installed New Carpet in Bedrooms
- Installed New Blinds Throughout
- Replaced all damaged/rotten wood/trim/siding around house
- Painted all walls, trims, doors, closets, ceilings, and cabinets
- HVAC, Electrical and Plumbing inspected and repaired by a Licensed Professional


Let Memphis Invest transform your financial future!