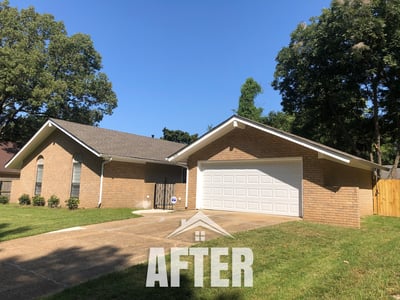 This week's Transformation Tuesday comes from Memphis, Tennessee! This single-family home had plenty of unique characteristics to make it stand out, including arched doorways, a spacious kitchen, and expansive backyard. However, mismatched painted walls and an overgrown yard left the home hiding in the shadows. To see how our expert team of contractors made this property shine, check out the before and after pictures below!
Maximizing a budget of $47,000, we began by landscaping each yard, repairing the foundation, and giving every detail a fresh paint job. Next, we laid new flooring throughout the home — carpet in the bedroom, vinyl plank flooring in the living room — and modernized the kitchen with new appliances and countertops. The home has an entirely fresh, new feel with care and attention shown in each and every room.
Memphis is an excellent market for passive real estate markets because of the city's lasting, sustainable, and accessible real estate deals. With its strong local economy and growing rental demand, The Bluff City continues to boast long-term potential and stand as a strong contender for investors looking to diversify their portfolio.
Related Article: 2020 Marks a Bright New Decade for the Memphis Market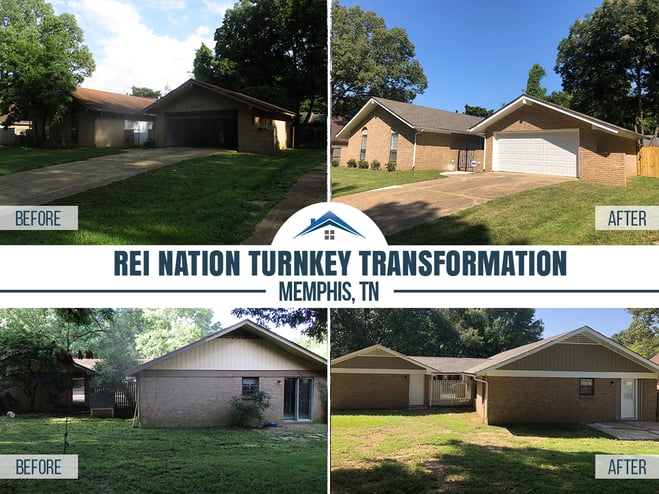 About this Transformation:
The owner of this Turnkey Transformation is located in California; this is the 2nd property that they have invested in and had managed by us. Here is additional info about the home:

- Built in 1970
- 1,537 sq. ft.
- 3 bedrooms, 2 bathrooms
- Lot size of .22 acres
- Installed New Roof
- Installed New AC
- Installed New Furnace
- Installed New Water Heater
- Installed New Dishwasher
- Installed New Blinds Throughout
- Installed New Light Fixtures
- Installed New Countertops
- Installed New Hardware on Cabinets
- Installed New Carpet
- Installed New Vinyl Plank Flooring
- Replaced all damaged/rotten wood/trim/siding around house
- Painted all walls, trims, doors, closets, ceilings, and cabinets
- HVAC, Electrical and Plumbing inspected and repaired by a Licensed Professional


Let REI Nation transform your financial future!