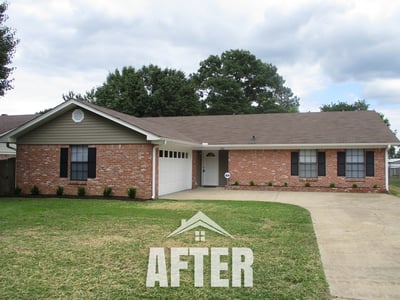 This week's Transformation Tuesday comes from Little Rock, Arkansas! Beyond its overgrown yard, this home hid ransacked rooms full of trash and outdated color schemes. Yet with its corner fireplace and large kitchen, our expert team of contractors picked up on the property's potential and transformed it into a true asset for its future residents.
Maximizing a budget of $35,000, our team began by landscaping the front and back yard and replaced any rotten wood lining the exterior. In addition, we added shutters and repaired the roof for a clean look. Next, we cleared the clutter littering the floors of each room. The mustard yellow walls were an eyesore that carried from the kitchen to the bathroom all the way to a bedroom. To restore the home's natural beauty, we applied a fresh white look and installed new cabinets and hardware to match.
As a centrally located city, Little Rock is a great market for investors. In addition to its geographical benefits, the city is bursting with revitalization — and has been for some time now. Its slow and steady growth points to a strong and sustainable future for both its population and those who choose to invest in its real estate.
Related Article: What Does Revitalization in Little Rock, Arkansas Really Look Like?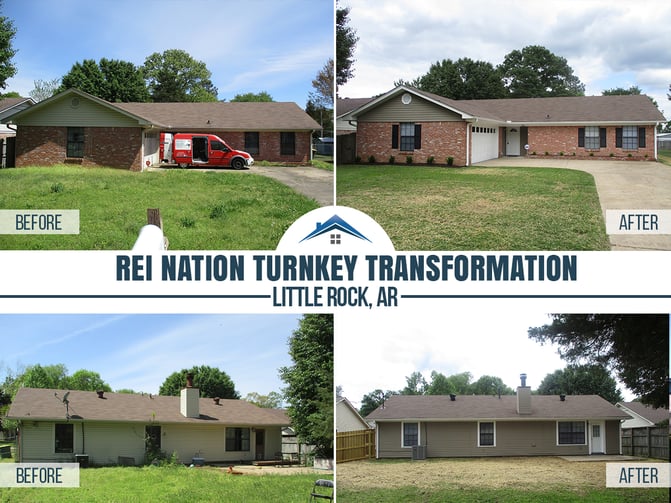 About this Transformation:
The owner of this Turnkey Transformation is located in California; this is their third property that they have invested in and had managed by us. Here is additional info about the home:

- Built in 1986
- 1,636 sq. ft.
- Lot size of .30 acres
- 3 bedrooms, 2 bathrooms
- Installed New Blinds Throughout
- Installed New Light Fixtures
- Installed New Countertops
- Installed New Hardware on Cabinets
- Installed New Dishwasher
- Installed New Vinyl Plank Flooring Throughout
- Installed New Carpet in Bedrooms
- Installed New AC
- Installed New Furnace
- Installed New Water Heater
- Replaced all damaged/rotten wood/trim/siding around house
- Painted all walls, trims, doors, closets, ceilings, and cabinets
- HVAC, Electrical and Plumbing inspected and repaired by a Licensed Professional


Let REI Nation transform your financial future!