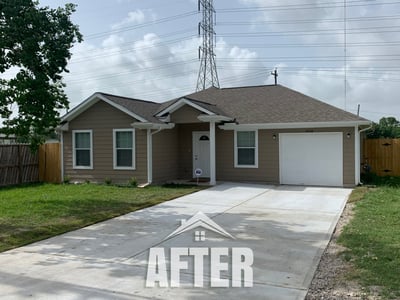 This week's Transformation Tuesday comes from Houston, Texas! When our expert team of contractors first set sight on this property, it was nothing but scaffolding and insulation, rich with potential. Originally built in 2018, we were thrilled to transform this house into a home and make it a single-family paradise. To see the before and after pictures, keep reading!
Maximizing a budget of $62,000, we began working our way from the outside in. We landscaped the yard and installed a brand new fence. Next, we moved room-by-room, filling the house with its missing pieces: walls and fresh paint, counters, countertops, new flooring, complete with new lighting, blinds, an AC unit, and water heater. By the end, we had a new, fresh home making the perfect property.
The Houston market is a resilient one; it's always managed to come out on top even when it has faced a crisis. Houston's highly diversified population and economy, paired with its skilled workers and dedicated professionals, make it a tenacious market for passive real estate investors.
Related Article: Houston Squares Up Against an Economic Double-Whammy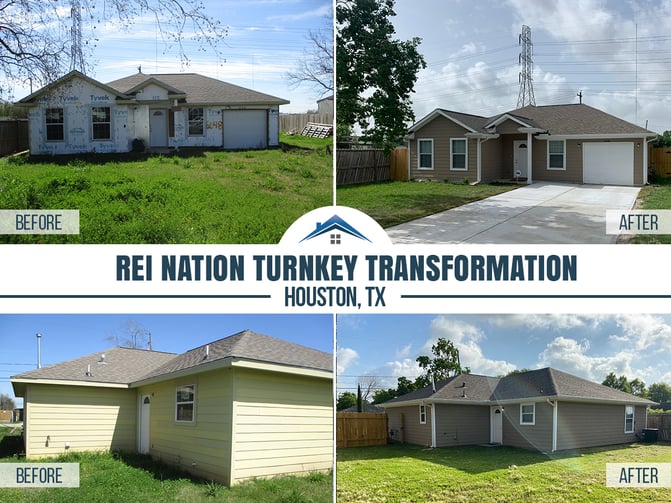 About this Transformation:
The owner of this Turnkey Transformation is located in California; this is their third property that they have invested in and had managed by us. Here is additional info about the home:

- Built in 2018
- 1,444 sq. ft.
- Lot size of .16 acres
- 3 bedrooms, 2 bathrooms
- Installed New Fence
- Installed New Blinds Throughout
- Installed New Light Fixtures
- Installed New Countertops
- Installed New Hardware on Cabinets
- Installed New Dishwasher
- Installed New Vinyl Plank Flooring Throughout
- Installed New Carpet in Bedrooms
- Installed New AC
- Installed New Water Heater
- Replaced all damaged/rotten wood/trim/siding around house
- Painted all walls, trims, doors, closets, ceilings, and cabinets
- HVAC, Electrical and Plumbing inspected and repaired by a Licensed Professional


Let REI Nation transform your financial future!