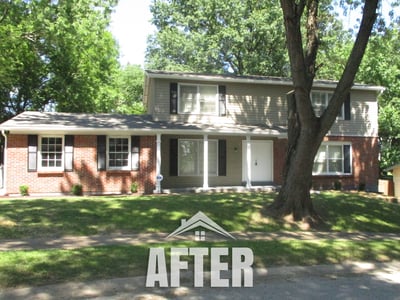 This week's Transformation Tuesday comes from St. Louis, Missouri! This two-story, single-family home was in serious need of having its original beauty restored. From its built-in shelves to its two-car garage, this house was bursting with potential. However, shag carpets and outdated tiles kept the home from truly shining. To see how we turned this property into an asset, check out the before and after pictures below!
Maximizing a budget of $55,500, our expert team of contractors began by installing a new roof and applying a new paint job. Next, we replaced the 70s carpet with new vinyl plank flooring and disposed of the antique tiling. By the end of our transformation, the house was unrecognizable, proving a perfect place for its future residents to reside in.
St. Louis is a great market for investors for a multitude of reasons. Between its job market growth and diversity to its increasing population, the city is experiencing an influx of new residents. Pair this with the city's focus on tech and relative affordability, and it's not hard to see why we chose St. Louis as one of our markets.
Related Article: Memphis Invest Brings Turnkey Investors New Opportunities in St. Louis, Missouri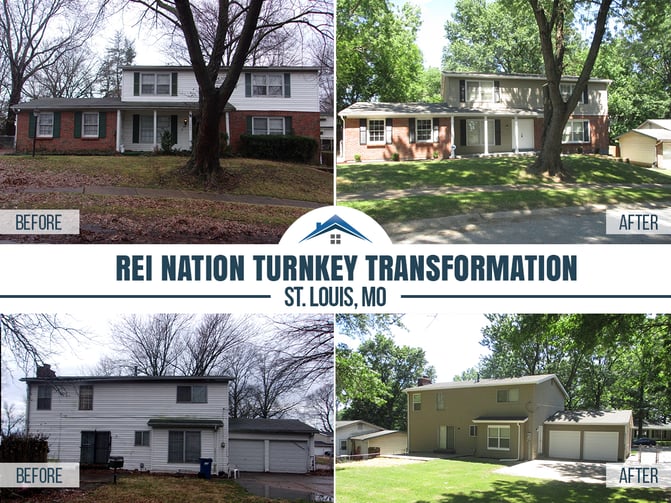 About this Transformation:
The owner of this Turnkey Transformation is located in California; this is their third property that they have invested in and had managed by us. Here is additional info about the home:

- Built in 1968
- 2,052 sq. ft.
- Lot size of .31 acres
- 4 bedrooms, 2.5 bathrooms
- Installed New Roof
- Installed New Blinds Throughout
- Installed New Light Fixtures
- Installed New Countertops
- Installed New Hardware on Cabinets
- Installed New Dishwasher
- Installed New Vinyl Plank Flooring Throughout
- Installed New Carpet in Bedrooms
- Installed New AC
- Installed New Furnace
- Installed New Water Heater
- Replaced all damaged/rotten wood/trim/siding around house
- Painted all walls, trims, doors, closets, ceilings, and cabinets
- HVAC, Electrical and Plumbing inspected and repaired by a Licensed Professional


Let REI Nation transform your financial future!