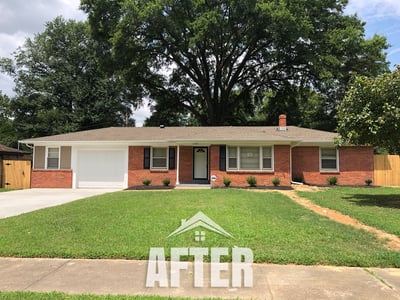 This week's Turnkey Transformation comes from Memphis, Tennessee! This single-family home was suffering from serious neglect. From the deteriorating roof to the trashed interiors, our expert team of contractors had quite a checklist for getting this house into rent-ready conditions. The final results show their hard work — and offer a beautiful opportunity for a future family. See the before and after pictures below!
Maximizing a budget of $58,000, renovations began with installing a new roof, a new fence, and landscaping the front and backyard. Next, we thoroughly cleaned out each room and applied fresh paint, polishing, and hardware from top to bottom, giving the house a completely new and fresh feel.
It's safe to say we know the Memphis market inside out. Over the last couple of years, there has been an explosion of renters in the city. With a median rent of $835, Memphis isn't just affordable, it is the most affordable market among 50 largest U.S. metropolitan areas. For real estate investors, the rise of a more permanent rental culture means opportunity.
Related Article: Memphis & the Rental Revolution: Why More Americans Are Turning Into Renters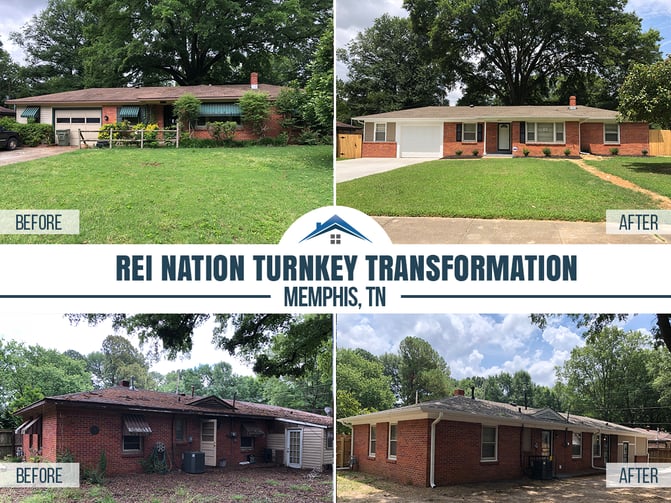 About this Transformation:
The owner of this Turnkey Transformation is located in California; this is their first property that they have invested in and had managed by us. Here is additional info about the home:

- Built in 1956
- 1,322 sq. ft.
- Lot size of .28 acres
- 3 bedrooms, 1.5 bathrooms
- Installed New Roof
- Installed New Fence
- Installed New Blinds Throughout
- Installed New Light Fixtures
- Installed New Hardware on Cabinets
- Installed New Backsplash
- Refinished All Hardwoods
- Installed New Garage Door and Motor
- Installed New Water Heater
- Replaced all damaged/rotten wood/trim/siding around house
- Painted all walls, trims, doors, closets, ceilings, and cabinets
- HVAC, Electrical and Plumbing inspected and repaired by a Licensed Professional


Let REI Nation transform your financial future!