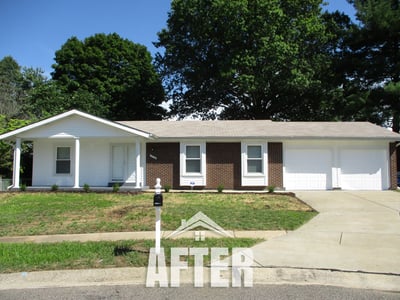 This week's Transformation Tuesday comes from St. Louis, Missouri! This single-family home was obscured by overgrown foliage with its true beauty inside hidden by outdated interiors. In getting this house into rent-ready conditions, we had a fair share of work both inside and outside of this property. To see the stunning before and after pictures, keep scrolling!
Maximizing a budget of $34,000, our expert team of contractors began by taking care of the obnoxiously colored walls, outdated bathroom wallpaper, and antique carpet straight from the '70s. In addition, we landscaped the front and back yard, ensuring the home had an enhanced curb appeal. The finished property offers a luxurious escape for its future residents, making it a true asset both for them and investors.
At REI Nation, we have rigid criteria for the markets that we invest in and St. Louis fits the bill. There is a great deal of nuance and analysis involved in the decision-making process when bringing a new investment market into the fold for our turnkey investors. With its job market growth and diversity, population growth, and steady and stable upward trends, St. Louis remains a beacon for passive real estate investors. By embracing innovation and their own local assets, St. Louis is revitalizing and reinventing itself in the post-recession era.
Related Article: Memphis Invest Brings Turnkey Investors New Opportunities in St. Louis, Missouri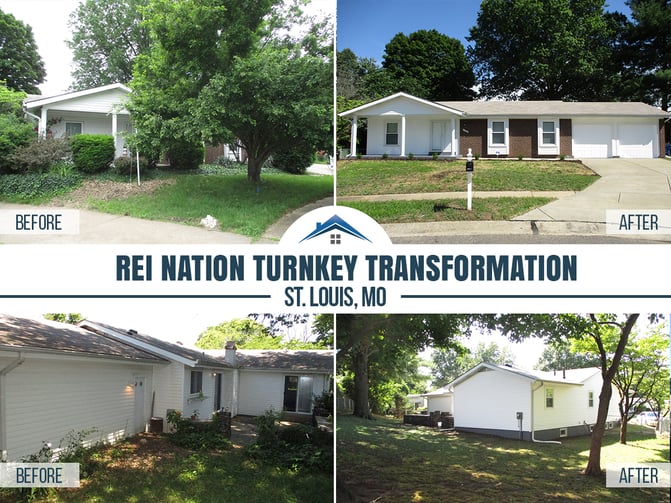 About this Transformation:
The owner of this Turnkey Transformation is located in California; this is their first property that they have invested in and had managed by us. Here is additional info about the home:

- Built in 1973
- 1,540 sq. ft.
- Lot size of .19 acres
- 3 bedrooms, 2 bathrooms
- Installed New Blinds Throughout
- Installed New Light Fixtures
- Installed New Hardware on Cabinets
- Installed New Countertops
- Installed New Dishwasher
- Refinished All Hardwoods
- Installed New Water Heater
- Replaced all damaged/rotten wood/trim/siding around house
- Painted all walls, trims, doors, closets, ceilings, and cabinets
- HVAC, Electrical and Plumbing inspected and repaired by a Licensed Professional


Let REI Nation transform your financial future!