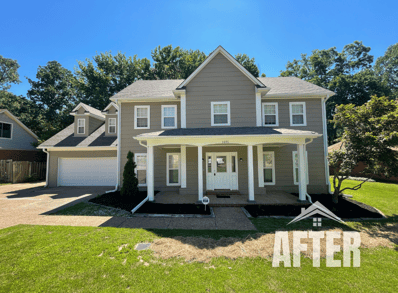 This week's Transformation Tuesday is from Memphis, Tennessee.
This spacious, two-story home was a bit frightening in its original condition. With faded, autumnal colors on the exterior, a passerby might suspect it to be a haunted house rather than ready residence! Inside, fire damage had ruined much of the kitchen and dining spaces, and smoke had done a number on the floors and walls. This property was in need of a major transformation!
Our team of renovators and local contractors used $66,000 to renovate this two-story terror top-to-bottom. Outside, the permanent fall fixtures were updates to a neutral two-tone palette, and the backyard's rickety wooden porch was pared back to a stable concrete pad. Inside, all of the damage was removed and replaced with a beautiful, brand new kitchen. The living spaces and bedrooms were given a do-over, as well as the bathrooms. Now, a large family can call this residence a true home!
This was the first REI Nation property purchased by its California-based owner, and is currently managed by Premier Property Management.
The Bluff City is home to good food, rich culture, and a hot rental market! A busy thoroughfare for young professionals, you can count on Memphis to be stable, affordable, and entertaining to boot. Give us a call today to see how Memphis can spice up your portfolio!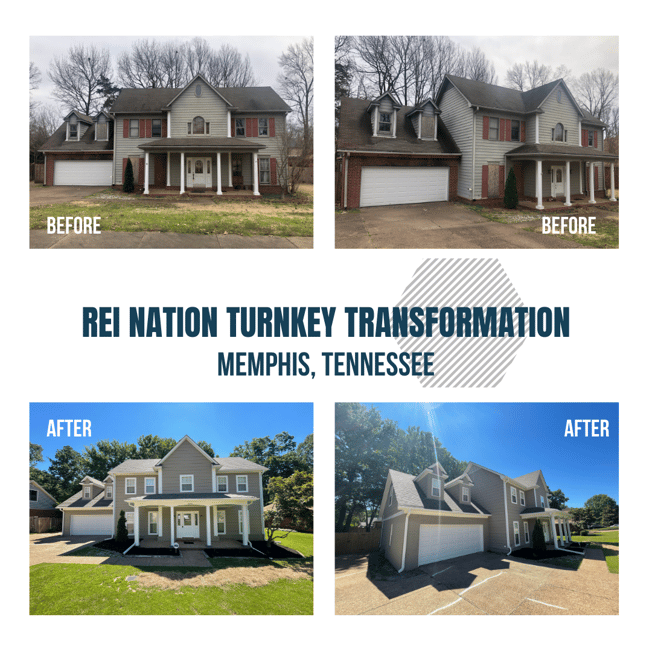 About this Transformation:
Built in 1989

3,001 sq. ft.

4 Bedrooms, 2.5 Bathrooms

Installed:

New Roof

New Doors

New Vinyl Flooring

New Light Fixtures

New Blinds throughout

New AC

New Water Heater

New

Furnace
Inside: Painted All Walls, Trims, Doors, Closets, Ceilings, and Cabinets

Outside: Updated Siding and Landscaping around the House

HVAC, Electrical and Plumbing Upgraded by a Licensed

Professional




Let REI Nation transform your financial future!