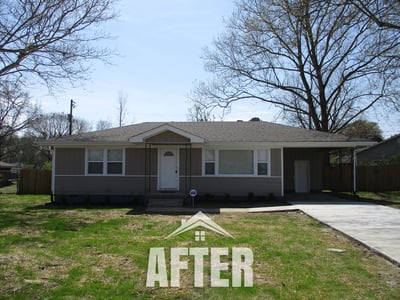 This week's Transformation Tuesday comes from Little Rock, Arkansas! This ranch style home was tainted with poorly colored walls, an unkempt yard, and piles of trash from the previous owners. To see how we revived this single-family home into a beautiful property for its future family, check out the before and after pictures below!
Maximizing a budget of $72,000, our expert team of contractors transformed this house into rent-ready conditions. Beginning on the outside, we installed a new roof, constructed a new fence, and poured new concrete at the entrances. Inside, we cleaned the leftover trash from the previous residents, repainted the outdated walls, and restored the bathrooms. The final results are a home that is clean, functional, and beautifully modern.
Little Rock has much to offer not only for investment opportunities, but also for those who live, work, and visit the city. Over the years, the city has seen a spike in revitalization. With the resurgence of industry, business, arts, and innovation comes a plethora of opportunity for investors.
Related Article: What Does Revitalization in Little Rock, Arkansas Really Look Like?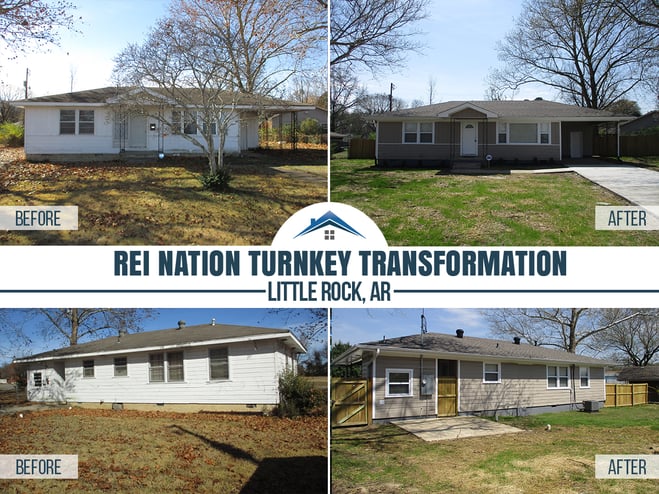 About this Transformation:
The owner of this Turnkey Transformation is located in California; this is their second property that they have invested in and had managed by us. Here is additional info about the home:

- Built in 1950
- 988 sq. ft.
- 3 bedrooms, 1 bathroom
- Installed New Roof
- Installed New Fence
- Installed New AC
- Installed New Air Handler
- Installed New Water Heater
- Installed New Dishwasher
- Installed New Blinds Throughout
- Installed New Light Fixtures
- Installed New Countertops
- Installed New Hardware on Cabinets
- Installed New Carpet
- Installed New Vinyl Plank Flooring
- Pour new driveway
- Replaced all damaged/rotten wood/trim/siding around house
- Painted all walls, trims, doors, closets, ceilings, and cabinets
- HVAC, Electrical and Plumbing inspected and repaired by a Licensed Professional


Let REI Nation transform your financial future!