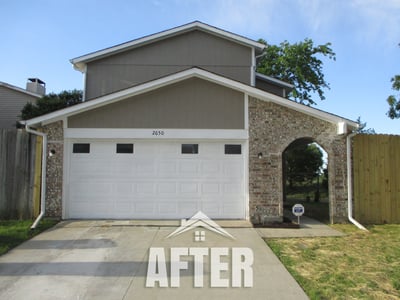 This week's Transformation Tuesday comes from Dallas-Ft.Worth, Texas! This single-family home stood out as a unique asset in the neighborhood. With its two-story floor plan, stone fireplace, and outdoor deck, it had a lot to offer. However, the home had suffered from neglect over time, so our expert team of contractors renovated it back into a modern masterpiece.
Maximizing a budget of $60,000, our team began restoring the home into rent-ready conditions. We began by installing a new roof, landscaping the yards, and rebuilding the outdoor patio. On the inside, we removed the outdated kitchen cabinets and interior wallpaper. With a fresh new coat of paint, new flooring, and much more, the property is like new.
The Dallas-Ft.Worth metroplex has been a notoriously hot market over the past decade. Its near recession-proof market and abundance of employment opportunities make it a sweet spot for investors. These attributes paired with a diversified economy equip the city to stand strong in the days to come.
Related Article: A Dallas, Texas Market Update for Real Estate Investors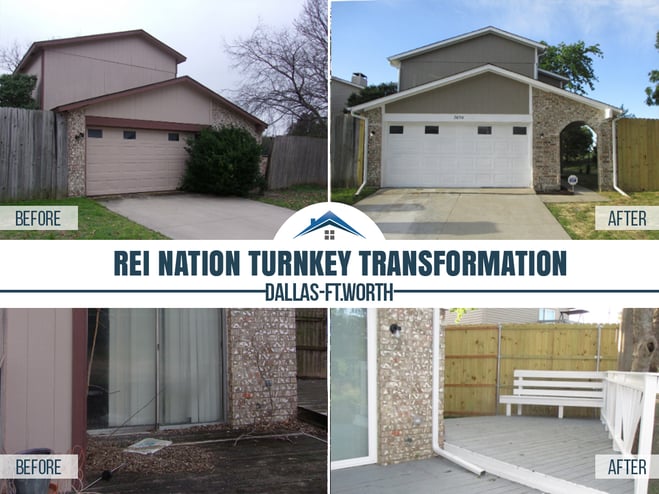 About this Transformation:
The owner of this Turnkey Transformation is located in Tennessee; this is their tenth property that they have invested in and had managed by us. Here is additional info about the home:

- Built in 1979
- 1,420 sq. ft.
- 3 bedrooms, 2.5 bathrooms
- Installed New Roof
- Installed New AC
- Installed New Air Handler
- Installed New Water Heater
- Installed New Dishwasher
- Installed New Blinds Throughout
- Installed New Light Fixtures
- Installed New Hardware on Cabinets
- Installed New Carpet
- Installed New Vinyl Plank Flooring
- Replaced all damaged/rotten wood/trim/siding around house
- Painted all walls, trims, doors, closets, ceilings, and cabinets
- HVAC, Electrical and Plumbing inspected and repaired by a Licensed Professional


Let REI Nation transform your financial future!