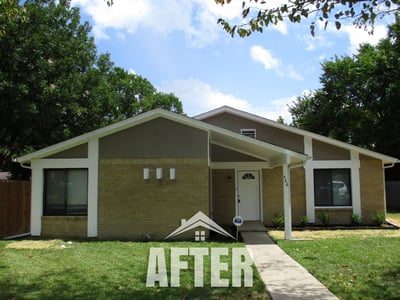 This week's Transformation Tuesday comes from Dallas - Ft. Worth, Texas! This retro, single-family home had endured a great amount of wear and tear over the years. From its damaged roof to its colorful interiors, our expert team of contractors renovated this home from top to bottom to get it into rent-ready conditions. To see the results, check out the before and after pictures below.
Maximizing a budget of $41,000, our team began by repairing the roof, landscaping the yards, and restoring any rotten wood lining the foundation. Next, on the inside, we applied fresh paint, new flooring, as well as new appliances. This retro restoration is the perfect home for future residents.
The Dallas - Ft. Worth metroplex is an ideal location for investors looking to expand and diversify their portfolio. With an economy that's exhibited longterm gains and seen an increase in balance overtime, shifting ideals make renting attractive — and provide a perfect opportunity for virtual investors.
Related Article: Why Real Estate Investors Love Dallas, TX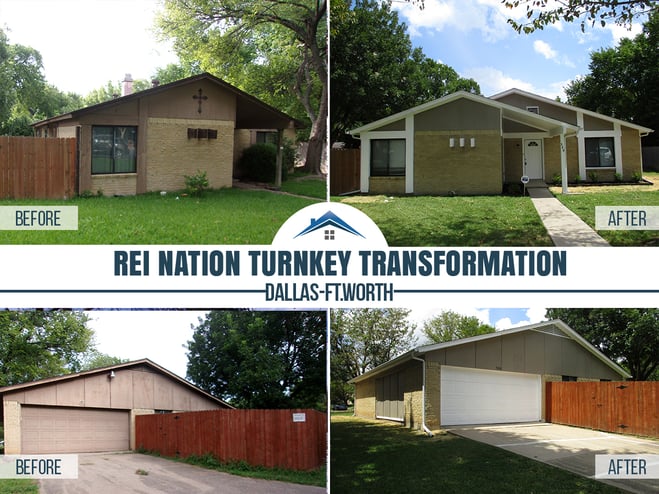 About this Transformation:
The owner of this Turnkey Transformation is located in Tennessee; this is the 23rd property that they have invested in and had managed by us. Here is additional info about the home:

- Built in 1974
- 1,566 sq. ft.
- 3 bedrooms, 2 bathrooms
- Lot size of .12 acres
- Installed New Fence
- Installed New AC
- Installed New Furnace
- Installed New Water Heater
- Installed New Dishwasher
- Installed New Blinds Throughout
- Installed New Light Fixtures
- Installed New Countertops
- Installed New Hardware on Cabinets
- Installed New Carpet
- Installed New Vinyl Plank Flooring
- Replaced all damaged/rotten wood/trim/siding around house
- Painted all walls, trims, doors, closets, ceilings, and cabinets
- HVAC, Electrical and Plumbing inspected and repaired by a Licensed Professional


Let REI Nation transform your financial future!