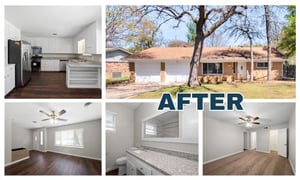 For many of us, the fears of the Great Recession are still fresh in our minds. These fears aren't entirely unfounded. We remember the feeling of waking up to countless property values bottomed out and the complete Wall Street chaos of the late 2000s. But now, as we near 2020, we have to both recognize that we are in separate circumstances while also understanding the inherent risk of any investment.
What is the best way to invest in real estate? While none of us can eliminate all risk from an investment, there are ways to mitigate that risk against a market downturn.
Having an airtight strategy and preparedness in the face of a downturn rather than anticipating that the market will always move in your favor is the best course of action. These are our top tips for weathering anything the market may throw your way.
4 Essentials in Recession-Proofing Your Real Estate Investments
Go Turnkey
Every investor benefits from the wisdom of experience. However, not every investor has the time or the resources needed to gain that wisdom. It can take a lot of mistakes, loss, and heartache along the way to truly master the craft of investing in real estate, and that includes in periods of recession and economic turmoil. For real estate investors, turning to turnkey investment companies for portfolio and property management, not to mention market access and analysis, is key to avoiding missteps and making crucial decisions.
The turnkey investor not only avoids the day-to-day grind of landlording, but they're backed by the experts who have done and seen it all, including tough economic climates. They know how to move their investors through rough patches and see them through to the other side.
Diversify Your Portfolio
Portfolio diversity hedges against risk, period. We always encourage investors to grow their portfolios beyond one or two investment properties not only so that they can generate more cash flow but so they are spreading their risk across multiple properties and markets. In the event of vacancies or an economic slump in one market, this diversification will keep your portfolio overall strong. While the Great Recession affected most markets in the nation in some form or fashion, few recessions affect the whole country on such a magnitude. The local economy, in most cases, is what matters more.
Related Article: Portfolio Diversification Strategies for Real Estate Investors and Why They Matter
Strike a Balance
For real estate investors who focus on residential properties, particularly single-family homes, there is a balance to be struck between the upfront cost of the property and the rental income potential. Because rental income is historically affected very little by recessions, it's valuable to capitalize on markets that have job sustainability (thus, the potential for strong, lasting rental demand).
For real estate investors, it's important to remember that while rental income increases up to a point with the value of a property, it does not increase exponentially or indefinitely. At Memphis Invest, we focus on properties that optimize rental income and property values. These are properties that offer value for both the investor and the tenant, incentivizing lease renewal and vacancy reduction on top of premium rental income for the investor.
What this does is strike that perfect balance for the investor, maximizing income and value where, during a time of recession, the strain on a property's value would be more readily felt.
Buy-and-Hold It
As a turnkey investor, part of our strategy is buy-and-hold. We're looking at the long-term when we invest in real estate. This is unlike other forms of real estate investing, like flipping, wherein your profits and success are directly tied to market conditions. A buy-and-hold investor is looking to hold their property for ten, fifteen, twenty years—or more. With this in mind, the ups and downs of the real estate market matter far less. Your property values may dip, but you know that they will return in time with the natural ebb and flow of the real estate cycle.
If you are mindful of your finances and your investments—that is, carefully curating your portfolio alongside a turnkey provider, saying future-minded, and being prudent as the real estate cycle moves—you have nothing to fear.
The right markets with a little investment savvy goes a long way to securing your financial future.
Partner with the best. World-class markets are waiting.