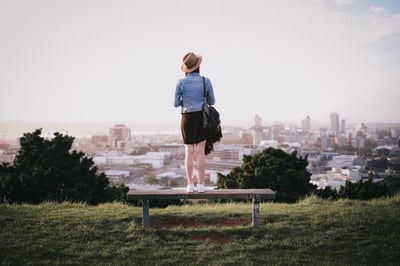 Houston real estate has been on somewhat of a roller coaster over the past several years.
If you've been following their saga at all, you know that Houston was one of the cities largely spared in the wake of the largest recession in recent history (circa '07-09).
Their real estate market never inflated in the same way that many around the country did, so when the market crash occurred, they didn't have nearly as far to fall.
Because of this, Houston and other Texas real estate markets...
in the same boat were able to get a foothold on recovery a lot more quickly than other markets around the country. And as a results, many young professionals around the country flocked to Houston, where there were job opportunities thanks to a strong energy sector and relative economic stability.
Then, more recently, we saw the downturn in the energy sector that caused many to panic about Houston's economic health—was this the end of good times for Houston? Was the market going to crash?
Now that the crisis in energy is largely over, Houston is continuing to see a high-value real estate market, high rental demand, and a continued influx of millennials that make for steady population growth. In fact, millennials make up a whopping 14.5% of Houston's population (they make up 13% of the overall U.S. population).
But what do those millennials mean for Houston's real estate? And what is the outlook for those millennials?
What Houston Real Estate is for Millennials...and Millennials are for Houston Real Estate
Houston home buying is largely out of reach.
There's a conundrum when it comes to Houston real estate. While it's a hugely attractive market for its jobs, demand has been driving prices up for both rentals and homes for years. The market was one of the hottest in the nation for quite some time, and many millennials are finding themselves still priced out of home buying not only because of home prices, but because high rent costs are making it difficult for them to save.
But, there's an odd flip side, because this isn't chasing them away from the market:
Millennials are still attracted to the market.
A study from Realtor.com showed that Houston is among the top cities for hopeful millennial homebuyers, in that they're searching for real estate in Houston, and they're searching a lot. Other reports show that they have difficulty actually buying, but they sure want to. Houston is where millennials want to be, and if that's not clear by their search habits, they prove it when they move there.
Part of the reason, despite unaffordability, is because Houston has strong job opportunities and an attractive culture. It's a place where they want to be, and they'll make the trade off and sacrifice of affordability to be there.
Millennials are transforming new construction in Houston.
For Houston real estate, millennials are transforming the market. There's been an astonishing amount of new apartment construction in the city in the past few years, and the wants and needs of millennials have largely shaped what that construction looks like. It means smaller homes and apartments and mixed-used communities where life, work, and play all convene.
Desirable market, difficult to afford and save.
Obviously, the condition of the real estate market bring with it some unavoidable issues. Though the market itself is coveted—millennials want to be here—it is challenging when that creates competition and inflates prices. Rental prices go up, making it difficult for tenants to save. That means it's more difficult to buy homes in the future.
For real estate investors, a market like Houston can be difficult to crack. It's attractive, it's hot, and people want to be there. The means there are always going to opportunities, because there's a lot of demand! That also means it can be costly and competitive to go at alone.
But you don't have to go alone.
You can partner with Memphis Invest and earn passive income through premium turnkey properties.