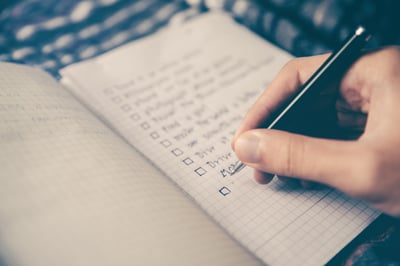 The temptation in passive real estate investment is to switch to "autopilot" and check out mentally. We're sold an idea of a "hands-off" investment. While this can be true, successful investors don't leave their entire investing future to the powers that be.
While the day-to-day trappings of passive real estate investing are never something you have to worry about as a passive investor, there are other aspects of the business that are very much in your hands. The big picture is up to you—your ultimate goals, desires, and needs—and that takes more than just solidifying a target number for your retirement account when it's all said and done.
Related Article: The Myth of Hands-Off Real Estate Investment
No, for successful real estate investment to happen, even in passive investing, routine self-assessment is necessary. We all have to ask ourselves the right questions to ensure that we're on track with our goals: relationally, financially, and otherwise.
Here are the top questions you should ask yourself as a passive investor to see if you're on the right track.
6 Key Self-Assessment Questions for Passive Investors
How are my key relationships?
As passive real estate investors, you more than others rely on key relationships for your success. While it can be easy to assume that things are working by simply leaving it in the hands of your managers and providers, engaging with them regularly is what makes your investments more effective.
Your involvement allows for your provider to act with your goals at the forefront, always. Closer communication means trust is built more and more over time. This means that as you grow closer to your provider, making investment decisions becomes that much easier. You know that they will act with not just finesse and knowledge of the industry, but specifically with your best interests at heart.
If your key relationships are not at their best, perhaps there is room to strengthen your communication channels.
Am I scaling successfully?
Scaling your investment portfolio is absolutely critical to success in real estate investment. Sticking to one or two investment properties just won't cut it if you want a high volume of passive income or significant net worth growth over time.
As you invest over time, step back and ask if you're scaling well and scaling consistently. You can speak with a portfolio advisor to see how the properties you've acquired have really added value to your portfolio. After all, the properties you've added must help achieve your overall goals. They need to add value, not just be there for their own sake. Successful scaling involves more than just buying property.
Are my goals specific and focused?
When we begin investing in real estate, it's easy to want to do it for very simple reasons. We might not totally know what we're getting into or how the whole process works. It's valuable to learn more about the industry over time as well as develop a deeper understanding of what you want to accomplish within it.
Ultimately, your goals as a passive investor should evolve from "earn passive income" to something more focused and specific. For example, you can develop specific retirement goals, or plan to support a child's education.
If you feel aimless in your investment goals, now is the time to focus.
Are my priorities the same?
With that in mind, your priorities may change over time. Investors are often in the game for decades, and with that many years in play come many changes. You may not have the same goals and priorities now that you had when you started.
Part of your self-assessment should include this introspection: do I still want what I did then, or have my priorities changed? Does my current portfolio reflect those priorities? How can I achieve my new goals?
Can I better communicate my needs?
With that in mind is communication. As a passive investor, actually accomplishing investment acquisitions and operations is often in the hands of others. Because of this, it's critical to clearly communicate your goals and needs to your provider, advisors, and management team—whoever you deal with in your communications. When you best convey your needs, you can better see those goals accomplished.
What do I truly want from my investments?
Lastly, do you really know what you want out of your real estate investments? It's important to recognize that what you want may be wildly different from other investors—even successful ones. And that's okay! Don't be afraid to want something else. Don't let others dictate your definition of success in real estate investment.
Part of your self-assessment should be solidifying these big-picture goals so that the small roadmap makes sense.
If you feel lost in your self-assessment or in solidifying your vision as an investor, give your adviser a call. We will gladly talk with you to offer guidance and clarity.