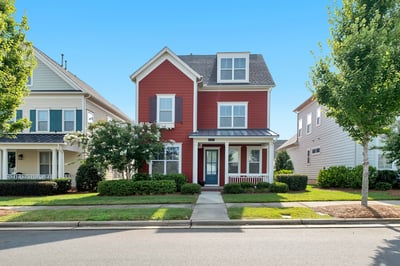 The past two years have brought us a wildly unpredictable world. Let's be honest, a lot of us are still on edge! The pandemic has stoked public health concerns, wild political debates, financial turmoil, and an unpredictable – if surprisingly high-performing – real estate market.
So many of us have been overwhelmed and burned out that 2020 and 2021 have become a blur. For real estate investors looking to the future, though, clarity of days past offers guidance for the future.
These are the key features that defined the 2021 real estate market.
5 Defining Characteristics of the 2021 Real Estate Market
1) Tight Inventory
The problem of low inventory has been present for at least a decade. When the Great Recession ravaged the real estate market, homebuilding sharply dropped. Even as various markets recovered, inventory failed to really catch up with renewed demand.
The COVID-19 pandemic, as we've mentioned before, did not create new trends as much as it accelerated – and exacerbated – existing ones. This is the case with housing inventory. Although there was some promise in Spring 2021 with the wider release of vaccines and easing pandemic restrictions, the Delta variant seemed to retake the ground we'd gained back.
Supply chain issues and shut-downs disrupted the homebuilding sector and many health-conscious sellers remained wary of putting their homes on the market.
2) Price Escalation
As we would expect, tight inventory combined with high demand resulted in escalating real estate prices. Some markets experienced double-digit percent gains in home value! In fact, according to Forbes, as of October 2021, the U.S. housing market was on pace to see a 17% increase in listing prices. That beats 2020's increase of 11%.
Of course, price growth hasn't been limited to traditional home sales. Rent prices are also up, partly due to the end of the eviction ban. Between August 2020 and 2021, we actually saw the first-recorded double-digit increase in national rent prices at 11.5%.
In some cities, that made rent more expensive than increasingly elusive starter homes.
3) Market Correction
Naturally, the breakneck pace of the real estate market couldn't last forever. Although home prices and values are still high – granting owners with a huge increase in equity – the tide turned against these out-of-control price hikes in 2021. We began to see market correction (that is, a slowing of the pace of homebuying, fewer multi-offer bidding wars, and lack of interest in premium properties) during the summer.
Homebuyers began avoiding the mistakes that put 2020 buyers into burdensome mortgage debt. Inventory has slowly begun to creep back up as well, giving buyers more wiggle room in their house hunting efforts. Although the market is still breaking records, the pace has slowed and offered some relief from the frenzy.
4) SFR Growth
Single-family rentals are flourishing. Because buyers and rental residents are valuing private spaces, increased square footage, and outdoor areas more than ever, it should come as no surprise that the demand for SFRs has overtaken apartment demand. GlobeSt predicts that single-family rentals will outpace nearly every other real estate asset class in 2022.
Despite market corrections, there are significant challenges in affording and obtaining lending for a home purchase. As a result, more and more households are turning to the next best thing – the SFR.
Hand-in-hand with this trend is the rise of build-to-rent properties, which have rapidly increased their share in new home construction.
5) Crash Potential?
Throughout the year, economic fears plagued the minds of financiers and real estate investors alike. Are we on track for another real estate market crash? Will sudden, rapid inflation do untold damage to our economic systems amid the COVID recession?
Too many of us were having flashbacks to a Great Recession-style disaster. The good news is that those fears are largely unfounded. Although there are some red flags we ought to keep our eyes on, most financial experts don't see us as nearing another similar crisis.
The factors are simply different. Homeowners hold a ton of equity – equity that is constantly growing – and stricter lending standards have minimized the reckless lending that created the 2008 financial crisis. Fewer debts, healthier credit profiles, and low mortgage rates all keep history from repeating itself.
Join thousands of real estate investors succeeding no matter how the market twists and turns – your REI Nation advisor is waiting for your call.