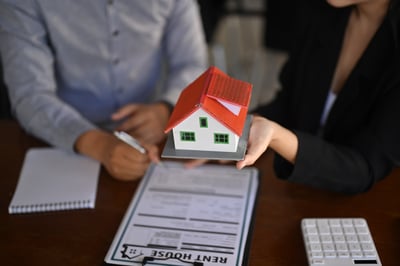 If you look at the headlines, you'll see people questioning the wisdom of investing in real estate in the current market climate. And we won't lie, things are different now. And while "different," may mean pivoting to address new challenges, it doesn't make investing in SFRs any less valuable than it always has been.
We'd argue that it remains one of the most stable, promising investments to make despite rising mortgage rates and recession. It comes down to one big factor: the fact that SFR investing is countercyclical, always working for an advantage in any market conditions.
4 Ways SFRs Thrive in Economic Adversity
#1. A challenging real estate market creates rental demand.
When the real estate market began to heat up with demand due to low interest rates and shifting COVID-era housing priorities, we saw SFR demand reach new heights. That demand doesn't disappear just because the real estate market is softening.
Just as many homebuyers were priced out of the market, many will continue to hold off on buying because of high interest rates – particularly as home prices remain elevated. And while we will see some price correction, a lack of inventory is going to keep property prices from dropping significantly.
That means that single-family rentals will continue to see demand, particularly as millennials and Gen Z begin to start families and prioritize suburban space, school districts, and square footage.
While investors may have to work harder to ensure they maintain profit margins considering current interest rates, they're not going to contend with a lack of demand! Quality investment properties are sure to be – and remain – occupied.
#2. Build-to-rent SFRs relieve the inventory squeeze.
In a typical market cycle, we would reach hypersupply before the market moves into recession. That hasn't happened this time. As we've detailed in the past, the Great Recession took a lot of construction firms out of the business. If they didn't shutter, they likely consolidated with other companies. Ever since, there's been a shortage of labor to meet real estate demand. That only intensified throughout the COVID-19 pandemic when shutdowns threw a wrench into construction schedules and the global supply chain made obtaining materials difficult and expensive.
Now that the market is beginning to turn in favor of buyers, we'd expect a glut of inventory. But it's not there.
Because of this, we can expect the build-to-rent model to continue to gain momentum. It's new housing without the new housing price tag – or interest rates – and provides much-needed inventory for those on the rental market. At the same time, inventory isn't being "taken" from the traditional homebuying sector to serve the rental sector.
#3. A softening market creates investment opportunities.
Though today's market conditions are a little tougher, they're not impossible to deal with. In fact, we're expecting opportunities to pop up for investors willing to do the work. Prices on the market will lower, competition will decrease, and overpaying for a property will be less common.
We may even see a rise in foreclosure-related opportunities. A recession spells economic trouble, and that means we may see homeowners that overextended themselves to buy in 2020 and 2021 falling into foreclosure.
Affordability may be a pressing issue, but investors can alleviate the burden by targeting the right real estate markets – those that are stable but more affordable than average. These markets are typically in the South and Midwest.
#4. It's both buy-and-hold and necessary.
If you're still feeling nervous or discouraged about investing in the SFR market, let this be of comfort to you. SFR investing is buy-and-hold by design. This means that you are expected to keep an income-generating property for a long time – not just a few years. What this means is that whatever market circumstances exist now will not exist in the future. We're always changing and moving in the cycle.
They say in the South if you don't like the weather, just wait five minutes. The same can be said for the real estate market!
The facts are simple: SFRs are a necessary asset that provides shelter. Demand will always be there. And when you buy and hold, your success is not dependent on today's market climate. You can afford to play the waiting game.
So do so wisely!
Fortify your investment portfolio with turnkey SFRs! Join REI Nation today.