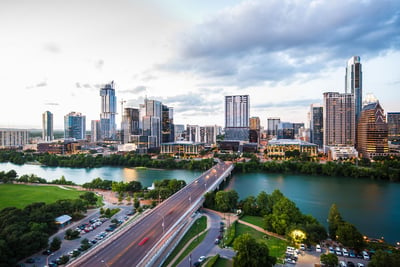 The survey is in: it's more expensive than ever to live in Houston. While Space City still boasts one of the more affordable markets for its size, residents used to its level of affordability may find the temperature of the housing market just a little too hot for their tastes.
According to the latest data, Houstonians need to be earning a bigger salary to own a home in Greater Houston—at least $53,000 a year—which is up 12 percent from 2017. When looking at these numbers, the Houston Association of Realtors took into account how much money a family would need to be making assuming a 28 percent principal, interest, taxes, and a 20 percent down payment.
For many of us, $53,000 sounds reasonable. The median household income in Houston is $61,708.
Sounds like things are peachy-keen: but there's a catch. Only four of Houston's neighborhoods provide homes that are within a price range that the majority of Houstonians can afford. 4 out of 55 neighborhoods in a market already known for its tight inventory are accessible to a majority of Houston homebuyers. So what are Houston residents to do?
They must turn to the rental market.
The Desirability Houston TX Rental Market
For real estate investors, the Houston rental market is the perfect ecosystem for a variety of reasons. When we're looking to what makes a real estate market desirable for the real estate investor, we have to observe a myriad of factors all coming together, and for Houston, we see that they really and truly mesh.
Related Article: Putting Houston's Real Estate Market Under the Microscope

People Want to Be in Houston
For a rental market to be successful, it must have a growing population. Something that we see in Houston is the very simple truth that people want to be there. As the largest city in Texas and the fourth most populated city in the nation at over 2.3 million people, investors will find no shortage of renters here. Not only is the population large, but it is growing.
From 2011 to 2012, Houston saw a growth of 34,000 people. This was in the wake of the economic bust wherein many economic markets were suffering but Houston was surging. Naturally, the population gains were due to the economic opportunities available in Houston where they were unavailable in other areas. In the past few years, the population growth has slowed. In 2017, for example, Houston saw a growth of 8,000 new residents. Still, when we take into account the motivations behind these moves and the nationwide economic recovery creating other viable market options, it makes sense and is not a black mark on Houston.
Far from it. We see instead a market that is thriving and teeming with a population that sees the immense value of living, working, raising families, building businesses, and thriving in Houston.
Projections from economists predict that Houston's population will continue to grow at a rate of 1.67 percent, compared to Texas' 1.47 percent and the nation's overall 0.71 percent.
Job Market, International Trade, and a Texas-Sized Economy
Houston's greatest asset, of course, isn't its population: it's what draws that population in. The economic state of Houston is without a doubt one of the strongest our country has to offer. Boasting some two dozen Fortune 500 companies, the largest and busiest port in the nation, massive international trade, and status as the biggest job creator in the country, it comes as no surprise that Houston is a popular place to live.
When looking at data and projections based on Houston's economic performance, Houston's economy is expected to grow 4.11 percent year over year (compared to the nation's predicted 2.89 percent) and double over the next twenty years. That's 2.6 million more residents, 1.3 million more jobs, and $650 billion in personal income.
The report from the Greater Houston Partnership goes into greater detail, but in short, things are looking good for Houston, even with the challenges presented in the oil and gas industry and in the aftermath of Hurricane Harvey.
What About that Property Squeeze?
So as real estate investors, we're presented with a market that is growing, bustling, and showing nothing but promise. But there's one problem: tight inventory. The question and conundrum of Houston's tight market has posed a challenge for homebuyers and investors alike. How can investors possibly break into a rental market where inventory is so limited—and is it even worth it if prices are constantly on the rise?
It is possible through turnkey real estate investment.
With the turnkey model, you don't have to elbow your way into the market. You leverage the skill and expertise of a company like Memphis Invest, who is already well-established in Houston. There's no bidding wars, no buying stress, and no time wasted hunting down the perfect rental property. We've already done the legwork for you.
Want to learn more? All it takes is a simple call.