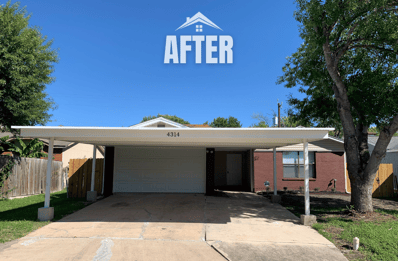 This week's Transformation Tuesday is from San Antonio, Texas.
With a smaller property, every square inch counts! That's why we liked the layout of this Texas ranch-style house, with lots of open living spaces and multi-level yard space as well. However, we couldn't help but notice some critical updates needed to make this a safe and comfortable home for a future resident!
With a budget of $51,500, our expert team of renovators and local contractors transformed this property head-to-toe. In the front yard, rickety metal fencing and awnings were removed. Also, new wooden fencing was installed to separate front and back yard. Inside, we said goodbye to all signs of wood paneling! Fresh, neutral colors and sleek, modern surfaces replaced the dated features of the house. Now, it's ready for a resident to love for years to come!
This is one of three properties owned by its California-based investor, and is managed through Premier Property Management.
For real estate investors, San Antonio's rent-growth predictability is advantageous for buy-and-hold properties. In San Antonio, again, according to the Department of Numbers, the median gross rent takes a 20.34 percent share of the median household income. In the United States as a whole, that median is 20.03 percent as of 2019. Learn more about what San Antonio has to offer by giving us a call today!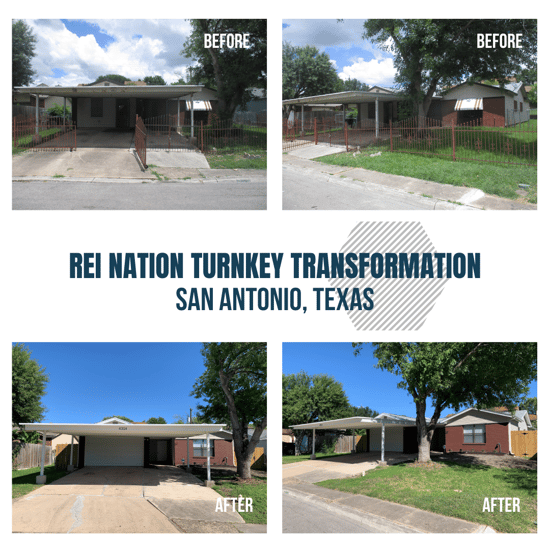 About this Transformation:
Built in 1986

1,366 sq. ft.

4 Bedrooms, 2 Bathrooms

Installed:

New Roof

New Doors

New Vinyl Flooring

New Light Fixtures

New Blinds throughout

New AC

New Water Heater

New

Furnace
Inside: Painted All Walls, Trims, Doors, Closets, Ceilings, and Cabinets

Outside: Updated Siding and Landscaping around the House

HVAC, Electrical and Plumbing Upgraded by a Licensed

Professional




Let REI Nation transform your financial future!