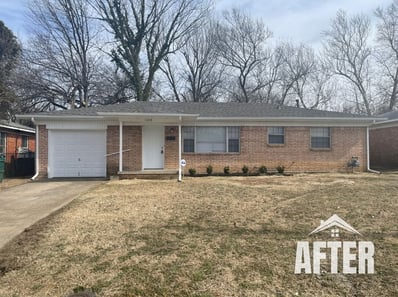 This week's Transformation Tuesday is from Tulsa, Oklahoma.
You might say this simple ranch was stuck in the past. Dated colors and fixtures were to be found in every room, including a bubblegum pink bathroom! We were happy to bring this 60's wonder into the present for a resident to enjoy long into the future.
Our expert team of renovators and local contractors renovated this property using a budget of $45,000, starting with the wilderness in the backyard! Subtracting window air-conditioning units and metal awnings, and adding more clean, white trim, results in a decluttered and modern curb-side view. Inside, the same clean color palette was applied to the kitchen and living spaces, with a modern gray added to the bathrooms that were updated from the ground up. Now, you would never know the original candy-colored state of this property!
The owner of this property is one of our esteemed Platinum WOW Group members and managed all of their properties through Premier Property Management Group.
Across the board, Tulsa is affordable. In fact, in ranking North American cities by the cost of living (rent included) Tulsa is the sixth most affordable. As we increasingly face issues of wage stagnation and inflation in the United States, this affordability is an asset – it means that residents will be able to more comfortably live and work in the market long-term, decreasing chances of vacancies and population decline. See what the "Oil Capital of the World" can do for you and your portfolio by giving us a call today!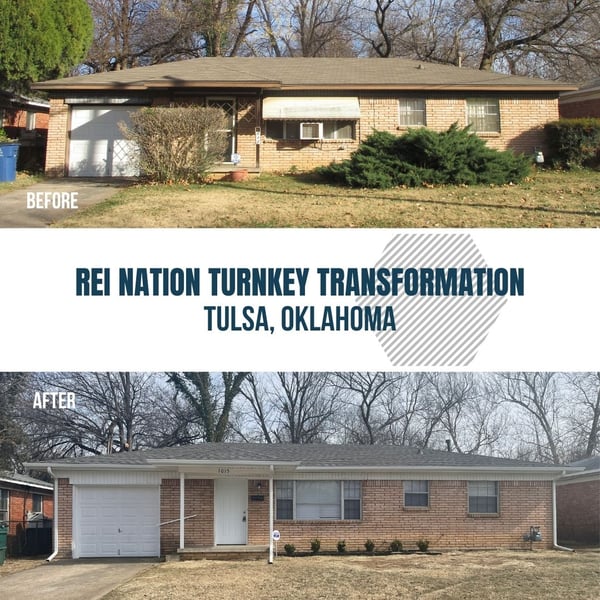 About this Transformation:
Built in 1960

1,066 sq. ft.

3 Bedrooms, 1 Bathroom

Installed:

New Roof

New Doors

New Vinyl Flooring

New Light Fixtures

New Blinds throughout

New AC

New Water Heater

New

Furnace
Inside: Painted All Walls, Trims, Doors, Closets, Ceilings, and Cabinets

Outside: Updated Siding and Landscaping around the House

HVAC, Electrical and Plumbing Upgraded by a Licensed

Professional




Let REI Nation transform your financial future!