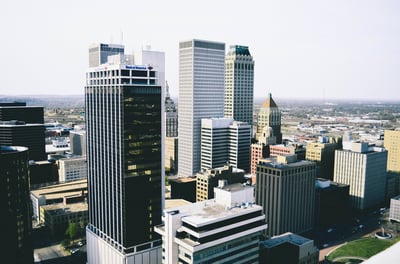 At the foot of the Ozark mountains sits the proud city of Tulsa, Oklahoma. As the second largest city in the state, Tulsa has a storied history as a titan of the energy industry and the cultural and arts hub of Oklahoma.
Though only 47th in size in the U.S., we know that key real estate markets don't have to be big to provide stellar opportunities for investors.
Tulsa may seem like an unassuming pick, but it has all the elements that make for an excellent passive investment market.
With a city population of 402,324 as of 2019 according to the United States Census Bureau and a metropolitan statistical area spanning seven counties and nearly one million residents, the Tulsa MSA accounts for more than a quarter of Oklahoma's population.
As you cultivate your passive real estate portfolio, consider Tulsa. This Midwestern gem is not to be overlooked!
Tulsa: Oil, Affluence, and Futureproofing
Like many markets in this region, Tulsa has deep roots in the oil and energy industry. In fact, Tulsa was considered the "Oil Capital of the World" for the better part of the 20th century. Though today that title more readily belongs to Texas and Gulf Coast titans, Tulsa's founding and initial boom can be attributed to oil. The discovery of oil deposits at the turn of the 20th century, including the famed Glenn Pool, ushered in entrepreneurs and unprecedented wealth.
Tulsa's newfound affluence brought prosperity to the region – even throughout the Great Depression. Of course, no market can rely on a single industry forever.
The 1980s meant trouble for the energy sector. The oil crisis of the 1970s, sparked by a sudden decrease in oil production due to the Iranian Revolution, caused prices to peak by 1980. The situation quickly reversed as demand fell, leaving a devastating surplus of crude oil. Oil prices dropped in turn, hitting half of their 1980 value by 1986.
The oil crisis taught Tulsa a tough lesson that several other oil cities learned all at the same time: oil is a fickle mistress.
Faced with bankruptcies, business closures, and unemployment, Tulsa didn't accept its fate and fade into a city that had long passed its glory days. No: Tulsa adapted, expanded, and ensured that the same fate could not befall the city again.
Tulsa's Modern Economic Profile
A Standout Reputation
Throughout the 21st century, Tulsa has built a reputation as a business-friendly, desirable location to live and work. In fact, in 2009, Tulsa snagged the top spot in a list of places to relocate. Several other REI Nation cities were featured in the top ten, including Dallas, Houston, Huntsville, Little Rock, and Oklahoma City.
There's a reason we highlight this, too: between 2007 and 2009, the Great Recession struck the United States. Its impact lasted for upwards of a decade, and we're arguably still feeling its aftershocks. The common thread between the cities featured on this list – in the middle of massive economic turmoil – is stability. Because these markets did not experience the same magnitude of housing bubble, they had a shorter distance to fall and less ground to make up.
As a result, these more even-tempered markets were the best ones to live in – and invest in, particularly for the long haul.
Additionally, Tulsa was named one of fifteen in Forbes' list of "Most Livable Cities" in 2009 alongside Oklahoma City and Little Rock.
Economic Diversification
Of course, part of what has made Tulsa such a desirable community in the years since the 80s oil crisis is that the city adapted through diversification. Diversification isn't just for your portfolio, but it can futureproof a city against various economic threats and industry crashes.
Statistics show that, prior to the 1980s oil crisis, 10% of all non-farm Tulsa jobs were in the oil and gas industry. By 1989 – shortly after the full impact of the crisis had passed – that number was down to just 4%. This was Tulsa's turning point. No longer a city relying on one or two industries to prop up its economy, Tulsa expanded and, today, is known for these standout industries:
Aerospace
Aerospace and aviation is by far the largest industry to emerge in the Tulsa market, starting as far back as WWII. With some 300 related companies in Tulsa, this industry accounts for over 32,000 jobs in Tulsa alone and 140,000 statewide. It generates upwards of $980 million in payroll and contributes over $3.3 billion to the region each year.
Technology
Startups, often inhabiting the technology sector, are booming in Tulsa. In 2021, Tulsa was predicted to be the next big city in the "Great Tech Migration." This is a movement we've seen since the advent of the pandemic (accelerating already existing trends) in which tech companies move from the Bay Area of San Francisco, New York, and other premium markets to more affordable, smaller cities like Tulsa. Spurred on by a reduced cost of living, lower costs of doing business, and the ability to work remotely, Tulsa and cities like it are slated to see more and more tech firms.
Advanced Manufacturing
Manufacturing accounts for some 22,000 jobs in the Tulsa area. Big-name companies like Whirlpool have invested hundreds of millions of dollars in Tulsa, continually providing jobs, enhanced facilities, and room for growth.
Energy
Though the energy sector isn't the dominating force on the Tulsa scene today, it still plays an integral role in its economic landscape and continues to employ thousands.
Transportation
Tulsa is in a prime position for transportation companies to maximize efficiency and minimize cost and time. Its central location makes it ideal as a distribution hub. Amazon is just one of many major employers in Tulsa; they plan to open a 2.6 million-square-foot fulfillment center that will employ 1,500 people.
Major Employers
Saint Francis Health System – 8,250 employees
Walmart/Sam's Club – 6,750 employees
Tulsa Public Schools – 6,750 employees
Hillcrest Health System – 5,250 employees
American Airlines Maintenance base – 5,250 employees
John Health System – 5,250 employees
City of Tulsa – 3,750 employees
BOK (Bank of Oklahoma) Financial – 2,288 employees
Tulsa County – 2,250 employees
QuikTrip – 2,250 employees
Union Public Schools – 2,250 employees
(Numbers based on 2019 estimates reported by Tulsa World.)
A Pro-Business Environment
As evidenced by the Tech Migration, Tulsa is a hidden gem when it comes to doing business. With a low cost of living, low-cost office rentals, access to real estate, a business-friendly tax structure, skilled labor force, and supportive local government, Tulsa truly positions itself as one of the best places to do business.
For real estate investors, this is a significant positive indicator. Ultimately, the health of any real estate market is tied directly to the health of its local economy. When a market such as Tulsa has strong, diverse industries that facilitate and encourage future growth, investors can reasonably expect stability and gains even in the face of economic challenges. This is something we saw in Tulsa during the Great Recession and on into the present.
Pandemic Performance
When evaluating a real estate market, performance under pressure is a valuable indicator. The COVID-19 pandemic was (and continues to be) an economic and public health pressure that has touched every market and every person in some shape or form. Tulsa is no exception.
With that said, the city performed remarkably well in comparison to the U.S. average. Let's look at the unemployment rate, for example: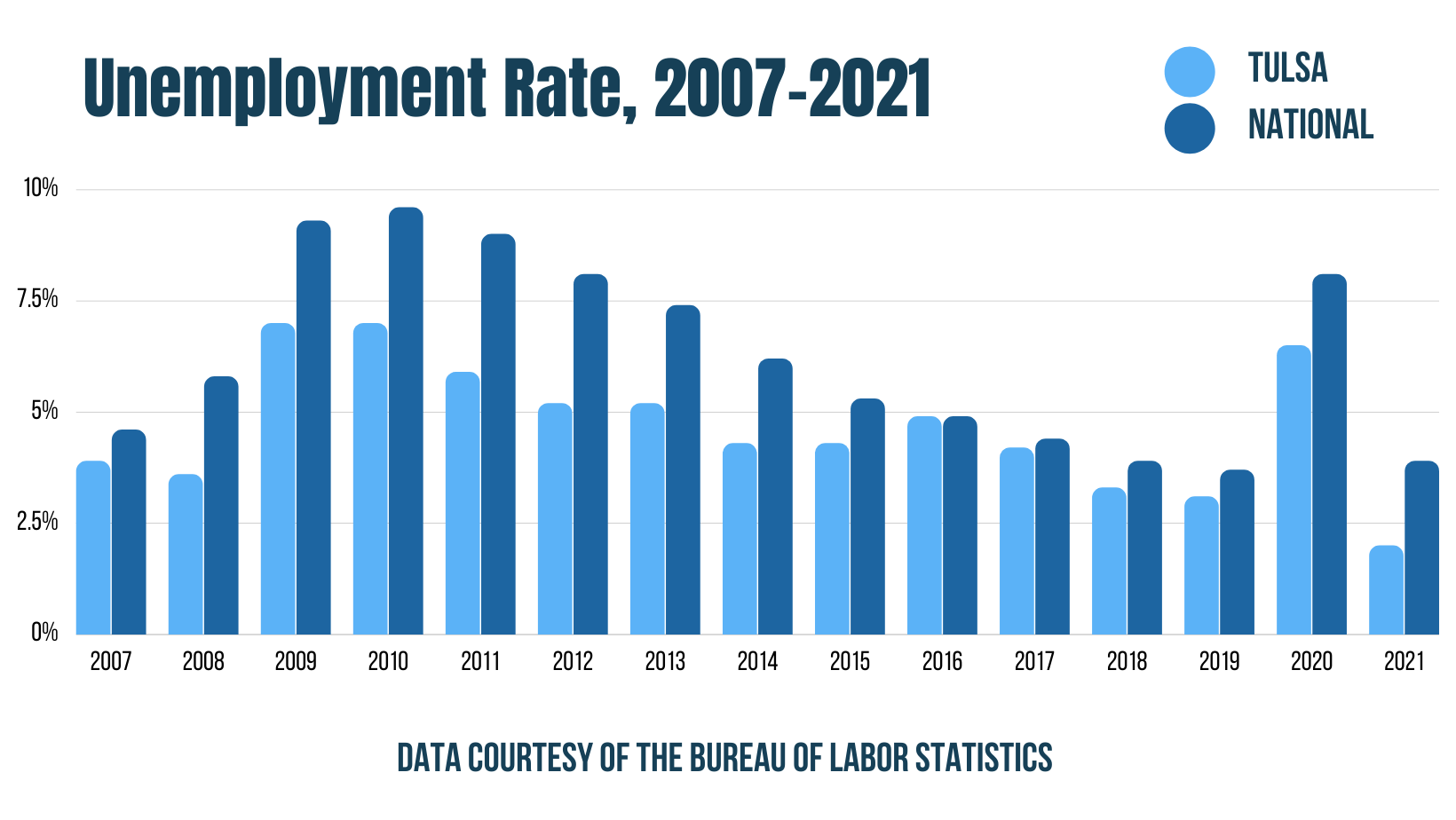 (2021 numbers as of November, for the Tulsa MSA according to FRED Economic Research)
What we see is that the Tulsa unemployment rate, more often than not, is well below that of the national rate. Even then, it has only ever matched – never exceeded – the national rate since 2007. Unemployment rates fluctuate more modestly, pointing to greater economic stability and a lesser impact from economic challenges (you'll note that the data covers both the Great Recession and the Pandemic Recession).
Of course, the unemployment rate only shows us part of the picture.
The Migration Equation
When the pandemic began in the spring of 2020, one of the first trends to take hold was an out-migration from densely crowded primary markets to less populated, more affordable ones. In many cases, these were southern and midwestern markets, known for their affordability and warmer climate.
Tulsa, with its key midwestern and southerly location, was perfectly poised to attract remote workers looking for more space and a reprieve from high costs.
Tulsa wasn't passive about it, either. In 2018, a program called Tulsa Remote launched. This program, predating the surge of remote workers in the pandemic era, would incentivize remote workers to move to Tulsa with the promise of up to $10,000 in compensation over the first year and reduced costs for coworking spaces and apartment rent. The idea was to further diversify Tulsa's economy and attract high-skill, well-educated workers. The program started out with just 70 participants in 2018, but that number has grown each year, with over 1,200 migrants utilizing the program in its first three years. Over 800 people participated in 2021, demonstrating its value in the pandemic-driven workforce migration.
All in all, the program has generated some $62 million in local earnings and created hundreds of jobs.
Ultimately, we see that Tulsa, throughout various economic crises, remains stable and an attractive, affordable alternative to those in markets more greatly affected.
Tulsa's

Key Statistics
Population & Job Growth
For real estate investors, population growth is a key indicator of overall market health. We find that markets that consistently see a drop in population are lacking in economic opportunities that encourage families to plant roots. As a result, real estate demand wanes and vacancies are more common.
Population growth doesn't have to be exponential to matter. When we look at the Tulsa metro area, for example, we see a pattern of modest growth that has persisted since the 1950s despite oil crashes and economic crises.

Although Tulsa's growth has been modest, it has been consistent. That consistency is enormously valuable when we're looking to make projections for the future. The U.N.'s projections demonstrate a continuation of this pattern of slow, steady growth.
For us, that's good news. Steady and predictable population growth allows us to better anticipate the changes to come and the performance we can expect of our rental properties.
Cost of Living
One of Tulsa's greatest advantages is its relatively low cost of living. Statistics show that Tulsa is 37% less expensive than New York City (not accounting for rent/mortgage costs) and that, all in all, Tulsa's costs for daily essentials fall in the low-to-mid range. When looking at a cost of living index, which compares cities to New York City as a baseline (scoring a 100 in each category), we see how much less living in Tulsa really costs.
Across the board, Tulsa is affordable. In fact, in ranking North American cities by the cost of living (rent included) Tulsa is the sixth most affordable. As we increasingly face issues of wage stagnation and inflation in the United States, this affordability is an asset – it means that residents will be able to more comfortably live and work in the market long-term, decreasing chances of vacancies and population decline.
With an increasingly remote and digitized workforce, this is truer than ever.
Median Household Income
Between Tulsa's 164,000 households, the 2019 median household income was $49,158 – an increase from 2018's $47,583. For reference, the nationwide median household income in 2019 was $69,560. The median income declined in 2020, unsurprising given the pandemic's impact on the economy, which resulted in countless job losses, cut hours and wages, and economic hardships.
Still, in Tulsa, the largest share of households has an income range well above the median at between $75,000 and $100,000. Generally, we see that income in Tulsa is highly favorable compared to the cost of living.
Tulsa's Real Estate Market
Of course, real estate investors also must examine the specifics of the market to get a full picture of their investment potential. As much as economics influence the real estate market, looking at the actual performance and trends within real estate is essential.
Here's what you need to know:
Price Performance
Tulsa has two great characteristics: substantial price growth combined with relative affordability. Towards the end of 2020, Forbes ranked Tulsa as the 4th hottest real estate market in the nation. In fact, Forbes reports that Tulsa has had the greatest increase in housing prices over the past two years among the 100 cities surveyed.
The median list price of Tulsa homes was $219,833 in September 2018. By September 2020, that median price had grown by 33% to $292,300. As with many markets, inventory shrunk dramatically and days on the market dropped. In 2020, Tulsa homes sat on the market for under two weeks at just 11 days.
This has been much the case in secondary markets across the United States, though Tulsa seems to outperform the competition.
According to Realtor.com, the median list price in Tulsa dropped by 6.8% in 2021, down to $205,000. While this may not seem like a good indicator, it is – because the list price of properties compared to their sales price has come more in line.
For example, in September 2020, when the median list price was $292,300 (or $232,000 according to Realtor.com), the sale price was $190,000. Now, the median list price and the sale price are around $200,000.
That means that homes are being put on the market for their value. Where other markets are still contending with over-inflated prices, Tulsa presents more realistic numbers while also reaping the benefits of high demand and general growth. For the real estate investor, this means you're much more likely to find a good deal – or, at the very least, make good sense of your price-to-income ratios! Tulsa is certainly still a seller's market, but it is a fair one, too.
Housing Affordability
To put the real estate affordability index into perspective, Tulsa ranks ninth in North America for affordability, with Memphis taking the top spot with an index of 11.71 where Santa Barbara, CA is the least affordable at an index of 0.94.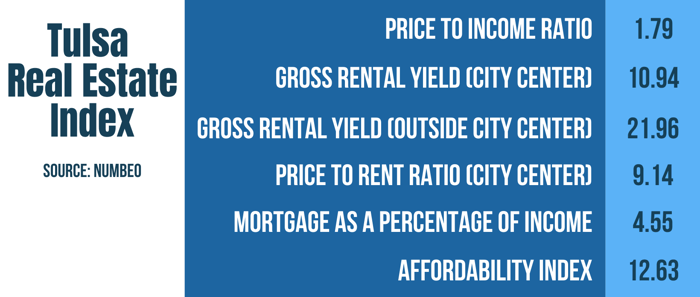 The affordability of both buying and renting is valuable because it demonstrates the potential for residents to stay for the long haul. The more affordable buying and renting is, the more disposable income a family will have to comfortably put down roots. For real estate investors, this means lower turnover and fewer vacancies, which maximizes your income-earning potential.
Not only that, but the affordability factor means that investors can take advantage of relatively low prices, which empowers them to scale their portfolios more quickly.
Overall, the median property values in Tulsa country are on the rise. The largest share of properties is valued between $150,000 and $175,000.
Rent VS Own
It's safe to say that the demand for rentals in Tulsa is high. In 2019, only 51.4% of housing units were owner-occupied. Nationally, the average owner-occupancy rate was 64.1%. The nation is increasingly favoring renting over buying, even in an affordable market like Tulsa. For real estate investors, market affordability does not indicate a lack of rental demand.
Monthly gross rent in Tulsa takes up just 17.86% of household income compared to the national share of 20.03%. This share has been on the decline over the past three years, indicating more balanced prices compared to many markets where the rental squeeze is pricing people out of the market – not only as potential buyers but as renters, too.
The Bottom Line for Real Estate Investors
In summary, Tulsa, Oklahoma presents a wealth of opportunities for passive, long-term real estate investors. This market has a strong foundation for future growth and stability thanks to efforts in the past several decades to expand and diversify its industries. No longer reliant on oil and gas, Tulsa is a city with a wealth of economic opportunities – particularly those for skilled remote workers and entrepreneurs looking to do business affordably.
The smaller the financial burden on Tulsans, too, is good news for investors. The cost of living in Tulsa being so below national averages – even compared to differences in median household income – means that there is less burden on families, resulting in longer tenures and an increasing population.
The lower cost of purchasing real estate allows investors to acquire rental properties more readily. Investors who live in more expensive markets and have proportionally more income can acquire high-quality properties for a fraction of the cost of their local market.
It's not just about the cost savings, either. The real and most clear potential in the Tulsa market comes down to its remarkable reliability. Between very steady rates of population growth, well-priced properties, and a local government dedicated to facilitating economic health, Tulsa is slated to be a sleeper hit among passive investors.
Looking to invest in some of the best real estate markets in the nation? Join thousands of successful investors building their wealth with REI Nation!