This week's Transformation Tuesday is from Memphis, Tennessee.
The 1950's kept a strong presence in the original state of this property, and all efforts to bring it up to date were left unfinished by the time we acquired it. From the pastel blue bathroom to the many types of (again blue!) flooring throughout the house, it was high time this house got a do-over!
With a budget of $48,500, our expert team of renovators and local contractors made significant renovations to this brick cottage. The exterior was cleaned up, with some new fencing added to the back yard, while the inside was made nearly unrecognizable! Disrepair and debris were cleared to make way for clean new surfaces from top to bottom. Now, this single-family residence is a welcoming home for a couple or small family.
This is one of two properties owned by a California-based investor, and it is being managed through Premier Property Management Group.
Memphis has had solid real estate performance since the Great Recession. In the past five years, properties have appreciated by 39.9%. The ten-year rate is 21.7%. Historically speaking, Memphis has endured as a city through a growing real estate market and an attractive cost of living. See what the Bluff City can add to your passive income portfolio by giving us a call today!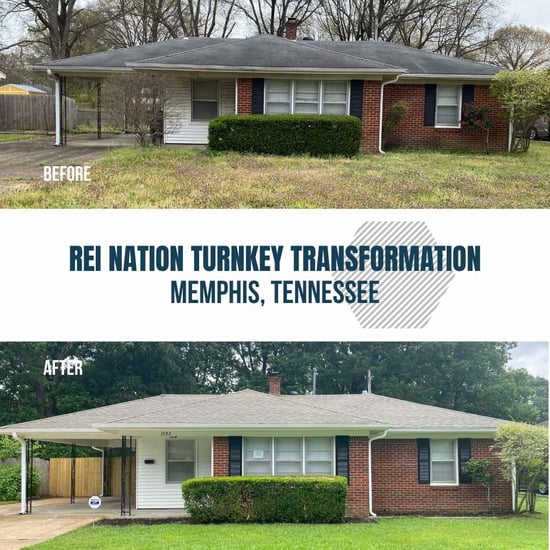 About this Transformation:
Built in 1955

930 sq. ft.

3 Bedrooms, 1 Bathrooms

Installed:

New Roof

New Doors

New Vinyl Flooring

New Light Fixtures

New Blinds throughout

New AC

New Water Heater

New

Furnace
Inside: Painted All Walls, Trims, Doors, Closets, Ceilings, and Cabinets

Outside: Updated Siding and Landscaping around the House

HVAC, Electrical and Plumbing Upgraded by a Licensed

Professional




Let REI Nation transform your financial future!