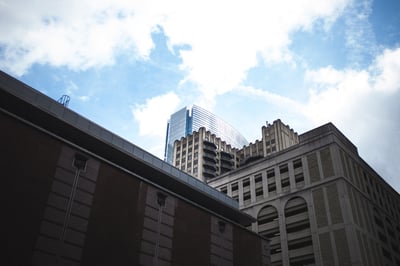 So far, most of the buzz in Texas has been centralized to Austin and Dallas. However, Houston is experiencing some real estate and economic buzz that is worth mentioning. As we head for the middle of 2019's third quarter, it's valuable for investors to step back and evaluate both the markets they're involved in as well as those that show promise and opportunities for the future.
Right now, the economy seems to be on shakier ground. With an escalating trade war with China bringing about an increasingly unstable stock market, there's never been a better time to turn to real estate investment to build your wealth.
And Houston, while not immune to the winds of geopolitical change, still boasts a hefty job growth rate and low unemployment, which is important when evaluating a real estate market.
Let's talk about it.
3 Facts About the State of Real Estate and Economics in Houston, TX
Job Growth is Unstoppable
We all know by now that the job market and local economy are integral to the health, stability, and success of a real estate market. What we see in Houston shows great promise. Despite the potential for another oil bust and natural disasters in the past years, the city remains in "growth mode."
What does that look like exactly? For one, Houston boasted a 3.4 percent unemployment rate in June of this year. This beats the national average of 3.7 percent. 48,000 jobs were added in the second quarter, with 83,000 year-over-year job growth. So far this past year, a total of 315,000 jobs were added.
Economist Pia Orrenius points to the increasing strength and standout growth in Houston.
From these job opportunities, despite wage stagnation, we're seeing population growth in Houston as well. This growth has slowed from previous rates, largely due to immigration crackdowns and legislation, as well as out-migration due to Hurricane Harvey. While still behind Dallas in population growth, Houston is expected to reach some 7.1 million residents by 2020.
Despite these bumps, all Houston counties saw growth last year. Additionally, the job market isn't Houston's only draw. Affordability, diversity, and climate also play a role in attracting new residents each year.
The Market Isn't Ideal for First-Time Homebuyers
While Houston has experienced job and population growth on top of strong real estate sales, the city is decidedly more difficult to crack for first-time homebuyers. Though prices are not rising at the rates that they once were, inventory remains tight for affordable starter homes. With many people out-priced by Houston, even with its more affordable cost of living, we see homebuyers struggling to break in. We've seen that, even after a decrease in prices, Houston homes average at around $361,000.
For investors, this is important to note, too. A lack of affordable inventory can make Houston a challenging investment market. On the one hand, plenty of people will be looking to rent. On the other, the lack of affordability potentially hurts your debt-to-income ratio.
That's why investing turnkey with Memphis Invest is so important. You don't have to worry about fighting over a hot real estate deal — nor finding one. We've already secured the properties and the opportunities that work for passive buy-and-hold investors, making it easier for you to crack into this market.
Check out: Texas Passed a New Property Tax Law. Here's What Investors Need to Know.
Houston is the King of Texas Real Estate Sales
Despite conditions being less-than-favorable for first-time homebuyers, Houston dominates in real estate sales. In June, Houston surpassed Dallas with home sales by just 24 properties. Houston hit 1,388 on a 12-month rolling average. Dallas was just behind at 1,364.
This demonstrates the remarkable tenacity of Houston — a city that has faced massive natural disasters and the questionable future of the oil and gas industry. Home prices sat at an average of $373,960 in June and have decreased to $360,642. This is likely due to global economic uncertainties.
However, we still see significant strength in the Houston market, even as unknown factors create market uncertainty.
For real estate investors, Houston is a strong horse to bet on. Despite ups-and-downs — even tragedy — in the past several years, the city has proven itself to be one of the top dogs in real estate.
Want to learn more about investment opportunities in Houston?