This week's 'Turnkey Transformation' comes from Memphis, TN. As many of you may know, Memphis is where we started in the turnkey business over 15 years ago. We're so proud to call Memphis our home town, and headquarters and we encourage real estate entrepreneurs to always get to know the communities they are investing in.
Depending on the market and what type of investor you are, many property owners like to get familiar with the area they intend to invest in. While getting to know a city's statistics about population and job growth are certainly very important, there's a lot to be said when you learn more about the actual community that your property belongs to. For many real estate entrepreneurs, there's a sense of connection and pride, which only makes you even more devoted in your overall investing goals!

Here's a list of blog posts where you can learn a little more about the cities we invest in and belong to:
• We ♥ Memphis: 3 Facts About Memphis Food & Culture Investors Should Know
• Restaurant Hotspots to Visit on Your Weekend Trip to Houston, Texas
• The Surge of Small Business in a Big Economy: Top Dallas Startups• Top 8 Things to See & Do in Little Rock, Arkansas• The Revival of the American Downtown: A Closer Look for Real Estate Investors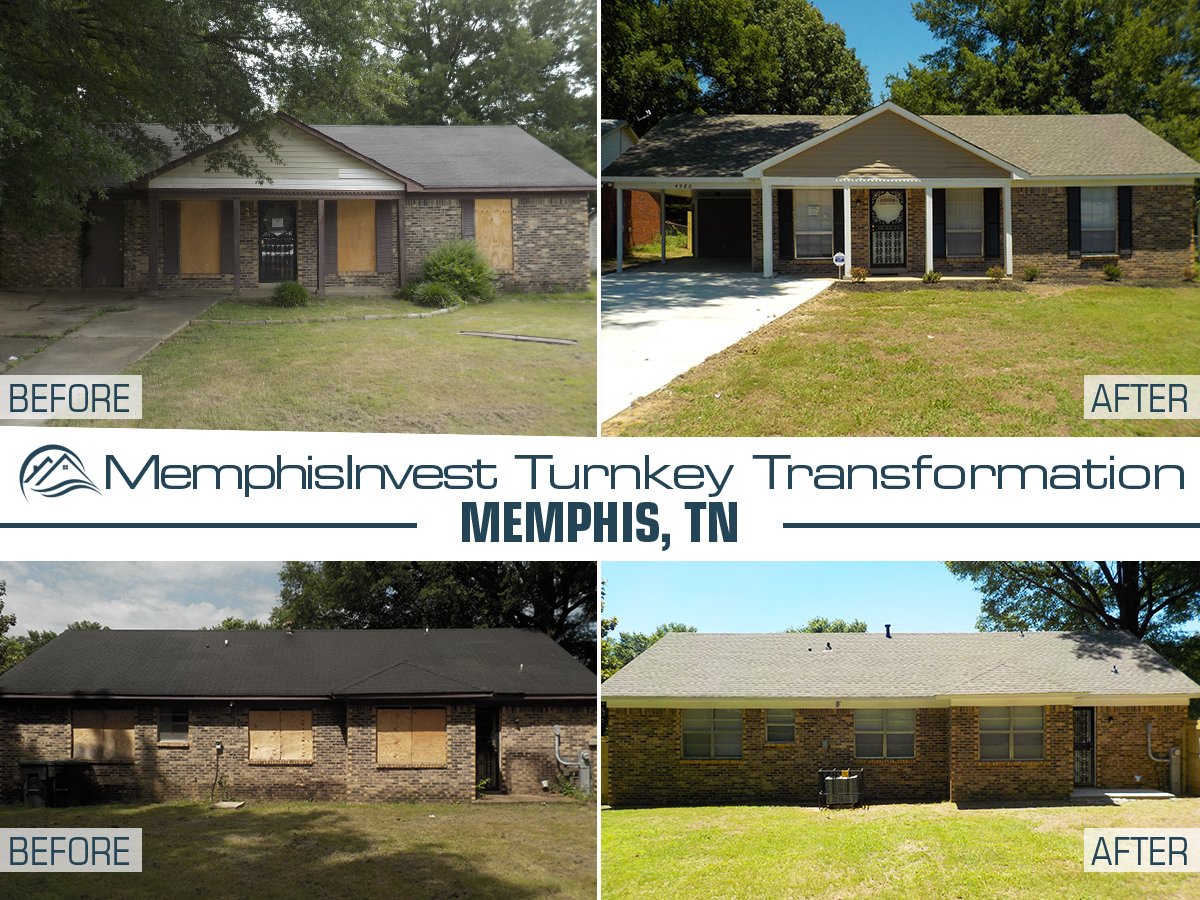 This home was very neglected, and had boarded up windows- the landscape and driveway needed a drastic makeover by our renovations team. After years of wear and tear, neglect, and weathering on the old driveway, we needed to make sure that we start anew and lay down fresh concrete. After all, a deteriorating driveway is not only an eye soar, but it can lead to sprained ankles or car damage. With a $36,000 rehab budget, our project manager and vendors were able to do wonders with this property. The rehab from start to finish only took 31 days and as you can see from the photos, they were able to make this property shine again with the budget and time that was given.
About this Transformation:
This property was renovated for an existing Memphis Invest client who was expanding their portfolio. Here is more info about the house:

- 3 bedrooms, 1.5 baths
- House was Built in 1975
- 1,417 sq. ft.
- Lot size of .24 acres
- Installed New Roof
- Installed New Carpet
- Installed New Flooring
- Installed Light Fixtures
- Installed New Blinds
- Installed New Fencing
- Installed New Water Heater
- Poured New Driveway
- Installed New AC Unit
- HVAC, Electrical and plumbing inspected by a licensed professional


Let Memphis Invest transform your financial future!