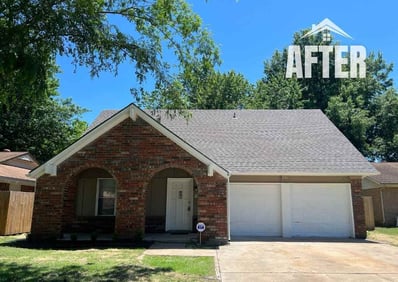 This week's Transformation Tuesday is from Tulsa, Oklahoma.
From passing by, the word that would have come to mind when seeing the original state of the property? Dingy. Dated colors did the brick no justice, and the same was true when going inside as well. Thankfully, we knew just what to do to banish the less flattering features of the 70's in this residence.
Our expert team of renovators and local contractors used a budget of $60,000 to bring this property into its true potential. The exterior was cleaned up with new, white paint on the trim and garage, while the siding on the back of the house also got a color refresh. Now, all you notice is the welcoming entrance and spacious green yards! Inside, new flooring made all the difference in the main living spaces, and the galley kitchen's new surfaces did the same in making it a clean, welcoming space for any family. We especially love the living room's contemporary fireplace and built-ins, ready for a personalized touch by its residents!
This is the first REI Nation property purchased by its owner and is currently managed through Premier Property Management Group.
The real and most clear potential in the Tulsa market comes down to its remarkable reliability. Between very steady rates of population growth, well-priced properties, and a local government dedicated to facilitating economic health, Tulsa is slated to be a sleeper hit among passive investors. Don't sleep on this market for your portfolio—give us a call today!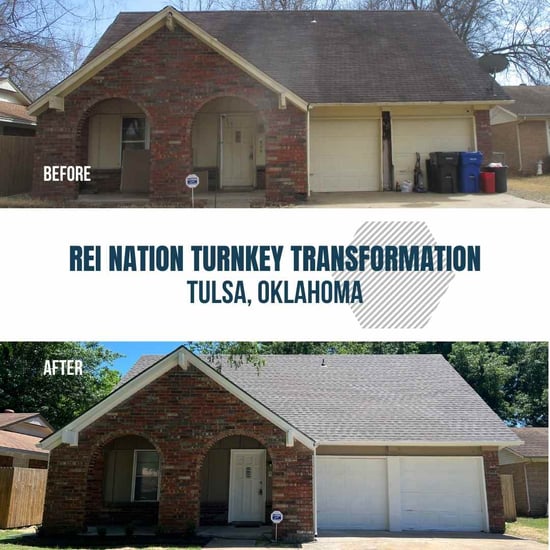 About this Transformation:
Built in 1973

1,644 sq. ft.

4 Bedrooms, 2.5 Bathrooms

Installed:

New Roof

New Doors

New Vinyl Flooring

New Light Fixtures

New Blinds throughout

New AC

New Water Heater

New

Furnace
Inside: Painted All Walls, Trims, Doors, Closets, Ceilings, and Cabinets

Outside: Updated Siding and Landscaping around the House

HVAC, Electrical and Plumbing Upgraded by a Licensed

Professional




Let REI Nation transform your financial future!