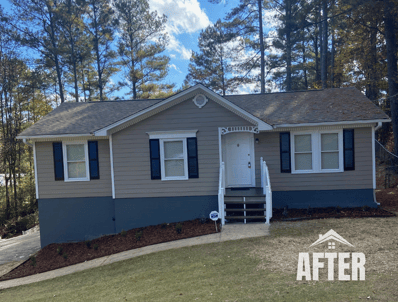 This week's Transformation Tuesday is from Birmingham, Alabama.
This may look like a straightforward three bed, two bath home, but the designers of this Birmingham property made the most of every nook and cranny of its 1,162 square feet! That's why we knew we had to bring our A-game to this renovation, and make this property feel as spacious and homey as it was originally intended.
Our expert team of renovators and local contractors used a budget of $43,500 to transform first the exterior then interior of this property. Outside, new paint and cleared up landscaping helped draw attention to the better features available outside: a large back yard and two-car basement garage. Inside, dated wood surfaces and carpeting were replaced with crisp white cabinets and dark, warm flooring. Take a look at the before-and-after photos for yourself!
This is one of four properties owned by its California-based investor, and is managed through Premier Property Management.
Birmingham has long been a historical and economic fixture in the southern United States. From its economic surge between 1881 and 1920, earning it the nickname "The Magic City," to its role as an iconic setting for the Civil Rights Movement, Birmingham persists as one of the South's key business centers. This makes it a prime location for investors and renters alike! See what Birmingham can add to your portfolio—give us a call today!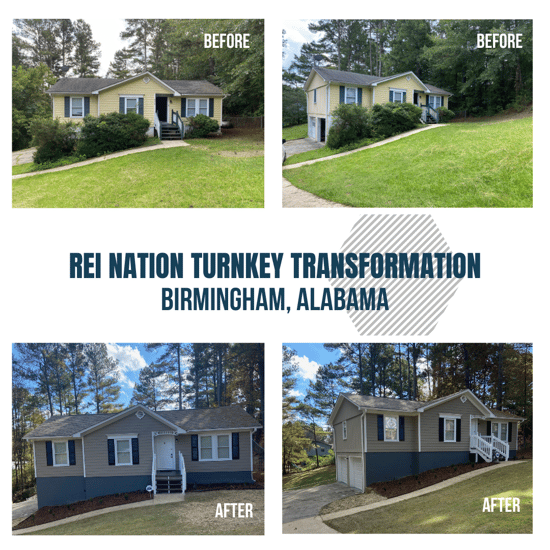 About this Transformation:
Built in 1990

1,162 sq. ft.

3 Bedrooms, 2 Bathrooms

Installed:

New Roof

New Doors

New Vinyl Flooring

New Light Fixtures

New Blinds throughout

New AC

New Water Heater

New

Furnace
Inside: Painted All Walls, Trims, Doors, Closets, Ceilings, and Cabinets

Outside: Updated Siding and Landscaping around the House

HVAC, Electrical and Plumbing Upgraded by a Licensed

Professional




Let REI Nation transform your financial future!